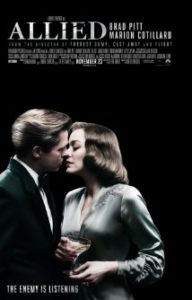 Allied is a good ol' fashioned romantic thriller starring Brad Pitt and Academy-Award winning actress Marion Cotillard (La Vie en rose) as Max and Marianne, a Canadian intelligence officer and French resistance fighter who are thrown together for a dangerous, top-secret mission behind enemy lines in 1942 North Africa. They fall in love awfully fast, but it seems real enough. They get married. Start a family. Gaze adoringly into each other's eyes. Until one day, Max is told that Marion is actually a German spy, and if the proof is substantiated, he must kill her. Ouch.
It's hard not to draw comparisons to Pitt's character and chemistry with soon-to-be-ex Angelina Jolie in 2005's Mr. and Mrs. Smith. But Allied is more of a slow burn, with Pitt's performance way more quiet and understated, while Cotillard's performance is particularly mesmerizing and complex. There's palpable chemistry between the two – as showcased in a steamy sex scene in the middle of a desert sandstorm – and that helps counterbalance some of the film's "Was any of it real?" cliché moments. Indeed, it may be real; and she may be innocent. The spy game can be… well, deceptive.
Overall, the movie does an excellent job of building the tension – and the doubts – as WWII rages on around the pair. Director Robert Zemeckis (Forest Gump, Cast Away, Back to the Future) delivers a well-paced and well-crafted cinematic experience, from the opening shots of Max skydiving into a vast Moroccan desert, to a strong 1940s glamour quotient, to the barrage of anti-aircraft fire lighting up the skies over London. The film doesn't rise to the level of best picture material, but it does evoke some of the atmosphere of the Humphrey Bogart-Ingrid Bergman classic, Casablanca, and is a fine choice for anyone who likes romantic dramas, or spy movies, or both.
No Comments Yet
You can be the first to comment!
Leave a comment