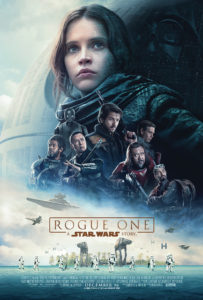 It's got that sweeping, familiar-sounding score. And on-screen text that instantly takes you back a long time ago, to a galaxy far, far away. And it's got battleships, space creatures, men and women ready to sacrifice themselves for a cause, and of course, that Darth Vader guy and some references to the Force. In other words, Rogue One delivers exactly what the subtitle promises: A Star Wars Story. And Star Wars fans will eat it up, especially if they're well versed in all the characters and chronologies that span decades of Lucas filmmaking. As far as I can tell, Rogue One is the first in an Anthology Series that is not to be confused with the Sequel Trilogy that began with last year's The Force Awakens, or the Original Trilogy (Star Wars, The Empire Strikes Back, Return of the Jedi) that began in 1977 and spawned a Prequel Trilogy (The Phantom Menace, Attack of the Clones, Revenge of the Sith) that I somehow managed to miss between 1999 and 2005. Now that we've got out of the way… here's the gist of Rogue One:
An assortment of unlikely heroes band together on a dangerous mission to steal the plans to the Death Star, the evil Empire's ultimate weapon of mass destruction. The protagonists include kick-ass fighter Jane Erso (Felicity Jones), rebellion leader Cassian Andor (Diego Luna), and one bitterly sarcastic android, K2SO (Alan Tudyk) who gives the mission a 97.6 percent chance of failure. Go team!
The title refers to an aviation callsign used by the rebels, but also to the film itself- a rogue entry in a franchise that has always revolved around the Jedi and the use of (the) Force. Rogue One charts its own course into Star Wars lore, but does so with a wink and a nod to all that is to come. Or already came. Or may come back. After all, there are two more 'anthology' films slated for release – in 2018 (a Han Solo origin story) and 2020, as well as the next two installments in the 'sequel trilogy', due out in 2017 and 2019.
Rogue One is part of a grand cinematic universe, but it holds its own as a stand-alone movie that can satisfy old and new fans of the sci-fi genre. I didn't like it quite as much as The Force Awakens but both movies show there's still more life in that galaxy far, far away. Wouldn't want to live there, but it's a fun place to visit – from afar.