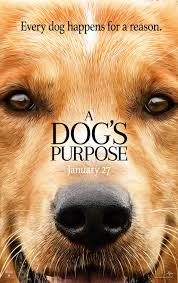 From the opening notes of the cinematic score (think: Nicolas Sparks movie) to the first frame of video, A Dog's Purpose is designed to tug at the heartstrings and manipulate emotions. And for the most part, it succeeds. Puppies!!! Awwwwwwwww. I mean, c'mon, who can resist a movie that literally gives voice (Josh Gad, Frozen's Olaf) to the innermost thoughts of man's – and woman's – best friend? Here's the gist of the sweet and sappy tale: A dog is reincarnated several times and discovers new purpose with each new life and owner, beginning with a kid named Ethan. The boy and his dog (Bailey) share a bond that can't be broken, like, ever. I don't want to spoil anything, but let's just say this movie could easily pass for a very special episode of Touched By an Angel (Dog) or the TV Movie of the Week on Disney Channel, Hallmark or Lifetime. Not that there's anything wrong with that. Those movies have a purpose too (pun intended) and a target demographic. A Dog's Purpose will surely resonate with dog lovers everywhere. Not a dog person? Then skip it.

A Dog's Purpose, based on the popular 2010 novel by W. Bruce Cameron, stars Dennis Quaid as the adult Ethan. But it's the younger Ethans – played by Bryce Gheisar and then K.J. Apa (Riverdale) that dominate the narrative as they look to Bailey for companionship, unconditional love, mischief, protection, and support during good times and bad. The years-long relationship remains part of Bailey's conscious state even as he 'moves on' – as both a female canine cop named Ellie and a spunky little dog named Tino.
Cute and poignant as it all may be, the movie starts to drag a bit as you're left to wonder just how many lives, and deaths, and tissues, will come into play. But all's well that ends well, making A Dog's Purpose a family-friendly (PG) movie that could boost visits to the local shelters, and stock in Kleenex.
One final note: The movie's release has been dogged by controversy (sorry, couldn't resist) after TMZ obtained video that appeared to show a dog being mistreated during filming. But rather than just take the edited video at face value, it's worth reading producer Gavin Polone's story in The Hollywood Reporter.