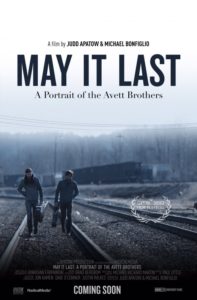 This is from one of our occasional Guest Chick reviewers who just happens to be a big Avett Brothers fan. Thanks, Marcianne Miller.
In this heart-tugging, intimate portrait of the country's wildly popular folk-rock act, the music is accessible and clear — and the message that echoes after the film is over– is a welcome reminder that in a few entertainment families, love and appreciation of one another weigh out over ego and fame. Cynics call such a message corny. For me and millions of the Avett Brothers fans, it's a message worth clinging to and a film that merits repeat viewings.
In small-town Concord, NC, outside Charlotte in the state's Piedmont area, Jim and Susie Avett raised two sons, Scott and Seth. They are totally different, equally talented and devoted to one another. They wanted to be rock stars until Seth met Doc Watson (1923-2012), the blind finger-picking guitar wizard from Deep Gap, up near Boone, who brought the WNC mode of folk — country blues, bluegrass gospel — to the masses beginning in the late 1960s. "I learned that power doesn't come from volume," Seth says. "It comes from character. I came back to mountain music with a vengeance."
Like the oldest traditional tunes, the songs of the Avett Brothers, now in their 40's, come from the joys and woes of daily life — children, illness, love found, love lost. There's a foot-stomping, chest-thumping sex cry ("Kick Drum Heart") and a merry paean to individuality, the recent hit "Ain't No Man." Seth's acutely personal "Divorce Separation Blues" includes yodeling pitched like a primal scream. "I consider Scott and Seth the greatest songwriters to come out of North Carolina," says Dolph Ramseur, who signed them to his fledgling record company years ago. "What good fortune that they're in the same group."
Directors Judd Appatow (The 40-Year-Old Virgin, Knocked Up) and Michael Bonfiglio (Jerry Before Seinfeld, Oprah's Master Class) followed the band for over two years, while they made their chart-breaking album, 2016's "True Sadness." An unforgettable scene takes place at Shangri-La Studios, the famed oceanside complex of producer Rick Rubin in Malibu. Seth's live recording of "No Enemies" is so intense it leaves the band stunned. No one can speak afterwards. Watching it, I needed my own moment to recover. For Seth, it's just another song. "We've become experts at reading our diaries onstage" he quips.