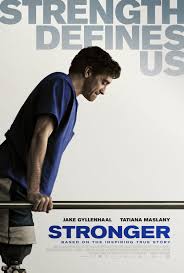 Stronger starts off strong, falters a bit in the middle, and regains its footing towards the end, making for an inconsistent though still compelling drama. The movie tells the true story of 27-year-old Jeff Bauman (Jake Gyllenhaal), a regular guy who became a symbol of hope and inspiration following the 2013 Boston Marathon bombing. Bauman was waiting at the finish line in a bid to cheer on – and win back – his ex-girlfriend Erin (Tatiana Maslany, Orphan Black) when the blast occurred. He lost both legs. Bauman is the guy being helped by a stranger in a cowboy hat in one of the most iconic photos from that day. Boston Strong personified. Stronger isn't so much about the terrorist bombing or the manhunt that followed (Patriots Day covered that territory). It's about Bauman's struggle to recover, physically and emotionally, often in the uncomfortable glare of the public spotlight.

Bauman's journey is not an easy one, and the movie – based on the book that he co-wrote – does not shy away from showing moments of raw pain, heart-wrenching discord and PTSD. It also taps into Bauman's gallows humor and the relentless support of his friends, family, girlfriend and community at large. The problem for me was that I found his family – particularly his alcoholic mother (played by British actress Miranda Richardson) to be quite annoying and grating. I preferred the scenes that focused on Bauman and his complicated relationship with Erin, as well as those that revealed what Bauman was really going through while being hailed a hero by cheering crowds at Boston Bruins and Red Sox games, and his initial reluctance to meet the cowboy who helped save his life.
Gyllenhaal (Brokeback Mountain, Nightcrawler, Nocturnal Animals, Okja) is an extremely versatile actor. He throws himself into his characters full tilt and Jeff Bauman is no exception. Aided by visual effects that give the illusion that he's truly lost both legs, Gyllenhaal's performance is much stronger than the movie itself.
I get that Gyllenhaal and director David Gordon Green (Pineapple Express, Your Highness) wanted to be as authentic and faithful as possible to Bauman's memoir, his relationships, and his working-class Boston roots, but they may have over-sacrificed. There's an inconsistency in pacing and tone that hurts the film's ultimate impact. Sure, I got boosebumps, misty-eyed, sad and inspired during particular scenes. It's impossible not to. The Boston Marathon Bombing is still raw and real in our own memories. And while Bauman's story serves to remind us how quickly life can change, and what it takes to overcome adversity, Stronger could have a tough time finding an audience in a crowded opening weekend at the box office. It's simply not strong enough.