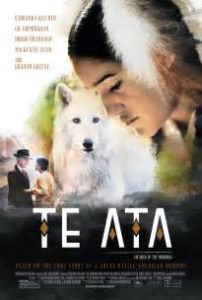 Te Ata was the stage name Mary Thompson Fisher took on in 1919 when she left her Chickasaw home in Oklahoma to pursue a career in acting. The film is the inspiring story of her journey to becoming a renowned storyteller who brought the stories of Native Americans to the white population. Played beautifully by Q'orianka Kilcher, Te Ata was a true pioneer, breaking barriers and humanizing her people at a time when the government was still actively trying to suppress their culture. The film lays the racist politics out clearly, but focuses on the story of the unheralded hero. Girl power!
The story begins when Mary/Te Ata is a girl. From early on it's clear she's going to go far. He father and uncles are trying to make a good life for their people despite the US government's restrictions and disdain. But Mary wants more and so she goes away to college and is the first Indian at the Oklahoma College for Women. There she meets Frances Dinsmore Davis, a woman who will change her life forever. Miss Davis is a drama teacher who coaxes her onto the stage and remains her mentor and friend throughout her life. Finding she loves drama and is good at it, Mary/Te Ata spends a summer touring with Chautauqua and working on a Native American storyteller act. But New York beckons and she eventually lands a role in a Broadway hit, and you'd think she'd be thrilled, but something is missing. It is the storytelling that calls her back. And she spend the rest of her life bringing stories of the Native Americans to audiences all over America and around the world. (Through Miss Davis, she was introduced to Eleanor Roosevelt and performed for FDR at the White House. She even performed for the King and Queen of England.)
Te Ata was produced by the Chickasaw Nation and it is a beautiful testament to one of their most famous tribe members. Her contribution to the public's understanding of America's indigenous people was enormous. But beyond being an effecting story of indigenous power, it's a warm story of a young woman finding her place in life. There's a love story, a father/daughter story, and a girl power story. I'd recommend this for wide audiences. She's another one of the women we all should know about.