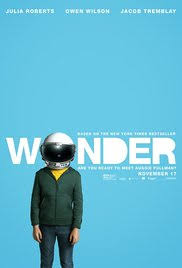 Wonder is simply a wonderful film for the whole family to watch and enjoy – and sniffle through – as we enter the holiday season. Based on the New York Times best-seller by R.J. Palacio, Wonder tells the inspiring story of August Pullman, a 10-year-old boy with a rare facial deformity whose parents enroll him in school at the start of fifth grade so he can be around other kids and live a more normal life. It's not an easy transition. Kids will be kids. But Auggie is smart, funny, empathetic and endearing, and he has a close-knit, supportive family that always has his back.

It doesn't hurt that Wonder has an incredibly likeable cast, including: the phenomenal Jacob Tremblay (Room, The Book of Henry) as Auggie; Julia Roberts and Owen Wilson as his parents Isabel and Nate; Izabela Vidovic as his sister Via; Noah Jupe as his friend/classmate Jack Will; and Mandy Patinkin as the school principal, Mr. Tushman, a sympathetic administrator who enforces a zero-tolerance policy when it comes to bullying. Wonder is a heartwarming movie filled with positive messages for kids and adults. So grab a tissue (or two) and check it out.
No Comments Yet
You can be the first to comment!
Leave a comment