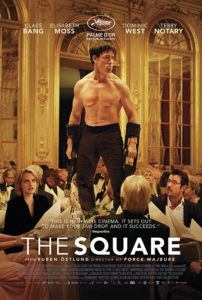 Winner of the 2017 Cannes Film Festival's Palme D'Or, The Square is a darkly funny satire set in the art world. Christian (Claes Bang) is the head curator at a prestigious Swedish modern art museum staging an exhibition calling for a trusting and compassionate society, who realizes how hard that actually is to accomplish. The film has less a story line than a series of tableaux one walks through ending up with an impression. It opens with an unseen artist building a square of brick right in from of the museum and laying a plaque in it saying,"The Square is a sanctuary of trust and caring. Within it we all share equal rights and obligations." And everything that happens afterwards refers back to that statement, revealing modern society's greatest failing.
Early on Christian is robbed because he is trusting and caring, but then he passes on his mistrust to a whole building of people, which results in his being threatened with "chaos," which follows. He has a unbelievably awkward one night stand with an American journalist (Elizabeth Moss), who just happens to have a chimpanzee roaming her apartment. His staff meeting includes a sometimes crying baby that no one blinks an eye at. And his young PR team for the the upcoming exhibition goes way over the line with a viral video. Then at the museum fundraiser, a whole room of rich people are terrorized by a performance artist acting as a gorilla or possibly just an über alpha male.
And meanwhile Christian is a divorced dad who takes care of his daughters from time to time. See how these things don't really tell a story? And yet, they all revolve around trust and compassion and the current lack of it in our dealings with one another. The film includes lots of shots of homeless people and Christian even has a few interactions with them. And in a brilliant cellphone video apology near the end he places his less than compassionate actions in a social and structural context that makes him the victim.
The joke here is on the elite who believe they're taking care of the world with opulent fundraising dinners and philanthropy while they ignore the people living on the streets. Christian is the epitome of the smug entitled one who's the center of his own little world. He may have learned a bit by the end, or maybe not. It's definitely an intriguing and entertaining film, though at almost two and half hours it is a bit long. This is director Ruben Östlund's follow-up film after his much lauded Force Majeure., which was also all about trust. I liked this one more even though it has a much less clear narrative. The Square is not for everyone by a long shot, but if you're up for a funny, odd, thought-provoking meander, this is the flick for you!
[Mainstream Chick weighs in: I fall into the 'not for everyone' category. The film was too long and I just couldn't get into it. I understand what it was going for, but in the end – The Square plays best to the arty circle. -hb]
No Comments Yet
You can be the first to comment!
Leave a comment