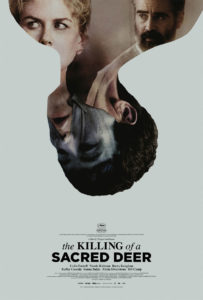 This is the second film I've seen from writer/director Yorgos Lanthimos, the first being The Lobster, which I thoroughly enjoyed. This one has the same altered-reality conceit, that the world is very nearly the one we live in, but has a few odd twists that set it apart. In The Killing of a Sacred Deer, a family lives a nice upper-middle class existence. The parents (Colin Farrell and Nicole Kidman) are both doctors. The kids are attractive and smart. Things seem great, until Dad introduces them to a teenage boy he's taken under his wing and then things go sideways.
When we first see the boy, Martin (Barry Keoghan, Dunkirk), he's meeting Steven (Farrell) on the sly and you wonder what their relationship is about. Steven's quick to tell the kid not to come to see him without calling and you have to wonder what he's hiding. He even buys the boy an expensive watch. But soon, he's introducing Martin to his family, though with a made-up backstory, and Martin is taking up with his teenage daughter Kim (Raffey Cassidy) and has insinuated his way right into the center of the family. And it's creepy and you know it is not going to end well. All the characters are just the other side of normal. Their conversations go over the line and their emotions are sub-arctic. That is, until Martin reveals what he's really after, and Steven is forced pay to an unthinkable price for a mistake he made years back.
The performances are all quite good and Alicia Silverstone (Clueless) makes memorable a cameo appearance playing Martin's lonely mother, but Barry Keoghan stands out as the damaged boy drunk with power. This is definitely not a film for mass audiences. I suspect that if you liked The Lobster, you'll like this one, though maybe not quite as much. Odd doesn't come close to describing it. Some of it seems strange for strangeness's sake, but the story sucks you in and you have to stay with it to it's horrifying conclusion.