First things first. Disney-Pixar's Coco is way better than Ferdinand and will probably win Best Animated Feature at the 2018 Oscar ceremony in March. So if you have to pick just one, Coco is the better bet, especially for anyone aged seven and up.

Coco tells the story of a 12-year-old boy named Miguel (voice of Anthony Gonzalez) who aspires to be a great musician, just like his idol, Mexican legend Ernesto de la Cruz. But Miguel's family has long banned music in the house, because they believe that Miguel's great-great-grandfather abandoned the family, including his young daughter Coco, to pursue a career in music. Great-great-granddad's been cut out of all the family photos and doesn't get honored –let alone acknowledged – during Mexico's annual 'Day of the Dead' (Dia de los Muertos) celebrations. As that big day approaches, a mysterious chain of events lands Miguel in the Land of the Dead, where he meets up with several of his ancestors. They are a cheery bunch of skeletons who have the power to send Miguel back to the Land of the Living. But they impose one condition: Miguel must agree to give up music once and for all. He refuses, and takes off in search of the one other relative who may be able to get him home: his great-great-grandfather.
Along the way, Miguel encounters Hector (voice of Gael García Bernal), a down-on-his-luck skeleton who sees Miguel as his ticket to visiting the other side, and skeletal superstar de la Cruz (voice of Benjamin Bratt), who is just as popular among the dead as he was among the living.
There's one major plot twist you sort of see coming, and another that seems a bit harsh for a Disney-Pixar narrative. But all-in-all, Coco is a delightful, heartwarming and colorful movie about the power of family, culture, traditions and dreams. Considering it's from the same folks who brought you Finding Dory, Inside Out and Toy Story, it's not surprising that Coco hits the right notes with its characters, story and heart. The movie features a stellar all-Latino cast and at least one big song that could stick in your head straight through awards season: "Remember Me."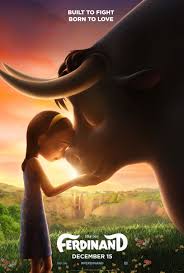 Whereas Coco is likely to stick with you, Blue Sky's Ferdinand will not. It's a relatively sweet animated movie that is enjoyable enough – for kids and adults – while you're in the theater, but will vanish from your consciousness before you can say olé!
Set in Spain (where bullfighting fans still claim the bloody spectacle is part of its national heritage), Ferdinand tells the story of a giant bull with a big heart who doesn't have the same ambition to fight as the bulls he's been raised with. After a typically tragic twist of animated animal fate, a young Ferdinand (voiced by John Cena) runs away from the bull farm and finds a loving home on a farm that grows flowers, not fighters. He's basically a typical family pet that happens to get really, really big. One day, poor Ferdinand gets stung by a bee and goes off on what looks to others like a rampage through town (cue the bull in the china shop). He ends up getting captured and sent back to his old digs, where he catches the eye of a retiring matador, El Primero who is looking for just the right bull for his final fight in the ring – and his final trophy head. (yikes!)
The movie is inspired by the children's book, "The Story of Ferdinand" by Munro Leaf and Robert Lawson. I never read it, though I suspect the tag line works in print as well as on-screen: You can't judge a bull by its cover. Ferdinand is a comedy adventure that hints to the gory nature of bullfighting while focusing on farm animal antics. There's even a dance-off with three obnoxious German horses that live on the farm next door. It doesn't do much to advance the plot, but it is mildly entertaining, as is the appearance of Lupe, the so-called "calming goat" (voiced by Kate McKinnon) who nominates herself to be Ferdinand's personal trainer. The movie has its cute and heartwarming moments. But it's no Coco.