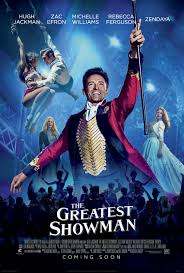 The Greatest Showman is the type of movie I could watch multiple times – not for the (so-so) plot – but rather, for the musical production numbers filled with heart, spectacle and earworms galore. If you don't like Broadway musicals, The Greatest Showman won't ring your bell. But if you're a fan (as I am), you're bound to enjoy this original movie musical that is, in essence, a Broadway show on the big screen. It doesn't quite rise to the level of a Moulin Rouge or Les Miz, but like the circus that P.T. Barnum created, The Greatest Showman is fun for the whole family. And c'mon, who doesn't like Hugh Jackman, the most versatile guy in show business?!

Jackman plays P.T. Barnum, a visionary who saw promise – and profit – in bringing together human curiosities and oddities under one big tent to entertain the masses. Throw in some elephants, music and a master of ceremonies – and you've got a bona fide circus. The movie is "inspired by" Barnum's rise from poverty to showbiz pioneer – a caveat that gives the filmmakers (including first-time director Michael Gracey) a certain amount of creative license that definitely favors the music over the narrative. The talented cast includes: Michelle Williams as Barnum's loving and supportive wife Charity; Zendaya as a stunning, singing, swinging trapeze artist; Zac Efron (puttin' his dancing shoes back on) as an investor in Barnum's quirky enterprise; and Rebecca Ferguson as Jenny Lind, a famous opera singer who catches Barnum's eye (and really did work with the real-life Barnum in 1850). While most of the cast does their own singing, Ferguson's character delivers a show-stopping power ballad called "Never Enough" that is actually voiced by Loren Allred, a 2012 finalist on The Voice.
The Greatest Showman features songs by Academy Award winners Benj Pasek and Justin Paul (La La Land) and it's worth checking out the soundtrack. Highlights include the aforementioned "Never Enough" as well as "This Is Me," belted out by Keala Settle who plays the Bearded Lady. The songs carry the film from scene to scene so you don't have too much time or inclination to process the elements that aren't working so well. In the end, The Greatest Showman is a fun, toe-tapping, uplifting crowd-pleaser about ambition, acceptance and what makes a family. So go ahead, run off and join the circus for 105 minutes. Peanuts and popcorn optional.