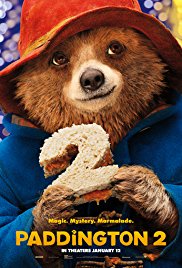 Paddington 2 – "If you're kind and polite, the world will be right." If only it were that simple. In Paddington's world, it is. That's why kids and adults could benefit from a return visit. Paddington 2 is a charming follow-up to the 2015 movie based on the popular children's books by Michael Bond. As the story unfolds, Paddington (voiced by Ben Whishaw) has settled into life in London with his adopted family, the Browns. He's become a popular member of the community – spreading joy, mischief, and marmalade wherever he goes. But a series of mishaps land him in prison, accused of stealing a pop-up book of London that he intended to buy for his dear Aunt Lucy's 100th birthday. On the human front, Hugh Grant steals the show as a washed-up actor with a nefarious agenda that involves the pop-up book and a hidden treasure.
Paddington 2 is a family-friendly delight that aims to make the world right.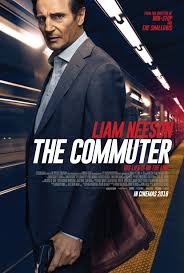 The Commuter – In 2014, Liam Neeson played an air marshal set up to take the fall for a murder and hijacking aboard a transatlantic flight. The movie was called Non-Stop and it was a flawed but entertaining flick. Fast forward to 2018, and Neeson is once again stuck on a ride from hell in a film that might as well be called Non-Stop on a Commuter Train. In The Commuter, Neeson plays an ex-cop-turned-insurance-salesman whose day goes from bad to worse when he is laid off from his job, then roped into a deadly game of cat-and-mouse while on his commute home from Manhattan to suburban New York. If you're "taken" with Neeson's particular set of skills, then you may be willing to forgive the redundancy and implausibility of action and plot. The Commuter is pure escapist fare that proves Neeson, 65, still has a knack for playing the everyman action hero, even when the source material is totally off the rails.
For dialogue and debate about Paddington 2, The Commuter, Phantom Thread, Molly's Game, and more – check out this edition of the Cinema Clash podcast (also available on iTunes!)