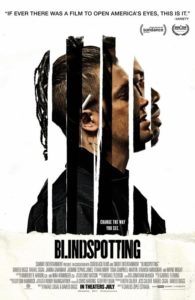 Every year, a few of those 'smaller' movies come along that you feel compelled to champion, in a concerted effort to make sure they don't get lost in the barrage of major studio releases. Blindspotting is one of those films. And not just because I got to meet its co-writer/stars Daveed Diggs and Rafael Casal (photos below) and once worked with the film's editor, Gabe Fleming (on America's Next Top Model). It's simply a darned good movie that's provocative, entertaining and timely.

Here's the gist: Collin (Diggs) is just three days away from completing his probation when he witnesses a white police officer gun down an unarmed black man. Circumstances make it near impossible for Collin to come forward without jeopardizing his own freedom. So he goes about his life, working for a moving company alongside his childhood best friend and troublemaker Miles (Casal), a white dude with a hip-hop vibe and a grill on his teeth. The boundaries of their friendship are tested as the two men struggle with their racial identities, their manhood, and the rapid gentrification taking place in their Oakland neighborhood. I know, that sounds kinda heavy for summer. But the story is told in a lively way that will have you laughing, flinching, tensing-up and tearing-up as the drama unfolds. All within 95-minutes.
Diggs' and Casal's personal friendship and experiences in Oakland– they met at a poetry slam in high school – inform the story, the setting, the character arcs and the performances, as well as the infusion of the spoken verse. Both are masters at it. Casal performed in HBO's Def Jam Poetry and Diggs scored a Tony originating the role of Thomas Jefferson / Marquis de Lafayette in "Hamilton" on Broadway.
Even though the first draft of Blindspotting was written in 2009 (after the police shooting of Oscar Grant in Oakland), the Hamilton craze should help endear mainstream audiences to the rhythm of Blindspotting in a way that may have failed to resonate a few short years ago. Timing is everything.
I'm not going to spoil the scene that explains the film's title, because I think that's best left for viewer discovery. But I will say it relates to perception, and how each person can interpret the same picture, person or situation differently, especially at first glance. Blindspotting marks the feature film debut of director Carlos López Estrada and includes strong supporting performances from Janina Gavanker as Collin's ex-girlfriend Val, Jasmine Cephas Jones as Miles' wife Ashley, and Ethan Embry as a police officer with minimal dialogue, whose expressions and physicality speak volumes.
Don't let this one land in your blindspot. It's definitely worth seeing.
P.S. Rafael Casal and Daveed Diggs participated in a lively and informative Q&A after a special screening of Blindspotting at The Charles Theater in Baltimore – and they graciously indulged my fangirl request for photos. Thanks guys!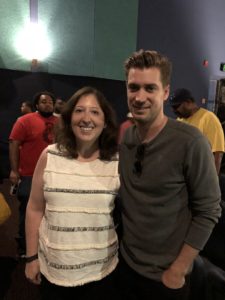 No Comments Yet
You can be the first to comment!
Leave a comment