Currently browsing the "
Daveed Diggs

" tag.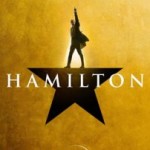 Let's be real. Hamilton is critic-proof. Everyone I know who desperately wanted to see it has, by now, seen the filmed version of the hit Broadway musical at least once since its debut on Disney+ in the wee hours of the morning on July third. A slew of others have seen it too, out of sheer curiosity or pop culture public shaming. And some – declaring their independence from peer pressure, or harboring an inexplicable disdain for musical theater – will simply take a pass. That's okay. You are excused. This show will go on.
Every year, a few of those 'smaller' movies come along that you feel compelled to champion, in a concerted effort to make sure they don't get lost in the barrage of major studio releases. Blindspotting is one of those films. And not just because I got to meet its co-writer/stars Daveed Diggs and Rafael Casal (photos below) and once worked with the film's editor, Gabe Fleming (on America's Next Top Model). It's simply a darned good movie that's provocative, entertaining and timely.