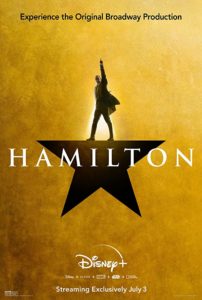 Let's be real. Hamilton is critic-proof. Everyone I know who desperately wanted to see it has, by now, seen the filmed version of the hit Broadway musical at least once since its debut on Disney+ in the wee hours of the morning on July third. A slew of others have seen it too, out of sheer curiosity or pop culture public shaming. And some – declaring their independence from peer pressure, or harboring an inexplicable disdain for musical theater – will simply take a pass. That's okay. You are excused. This show will go on.
I was one of the lucky ones to catch "Hamilton" on Broadway in late 2015 with almost all the original cast, except for, ironically enough, Lin-Manuel Miranda. His incredibly talented understudy Javier Muñoz played Alexander Hamilton at my matinee, alongside all the key cast members featured with Miranda in the filmed version. Among them: Leslie Odom Jr. as Aaron Burr, Phillipa Soo as Eliza Schuyler Hamilton, Renée Elise Goldsberry as her sister Angelica, Daveed Diggs as Marquis DeLafayette / Thomas Jefferson, and my personal favorite – Jonathan Groff as King George.
My ticket – back when you could still take your shot at getting house seats at the last minute – was $169 (face value), and I sat in Row J, Center Orchestra. I wouldn't give up the energy and spontaneity of live theater for anything, but the Hamilton film is truly as close as anyone could hope to get to that experience. In some ways, it exceeded my expectations. I was able to catch lyrics and expressions and production elements that I totally missed the first time around as I adjusted to both my cramped seat and the rhythm of rap in the form of a somewhat altered but still relevant history lesson.
I love that #HamilFilm brings "the room where it happened" directly into people's homes in an accessible and affordable way ($6.99/month for Disney+) and I hope other theatrical productions take note of how to do it right. There are quite a few musicals that I like more than "Hamilton," but I must say, with the help of the film, this one is growing on me more with each 2hr, 40 minute viewing. Added bonus: no long lines for the bathroom at intermission! Just hit pause. And pass the popcorn.
Arty Chick's take: I am not fortunate enough to live near a big city where I could have see Hamilton on stage, so I was happy to head to a friend's house to see this on a big screen. What a great way to learn your history by watching some fabulously talented actors rapping and singing and dancing about it! For a two and a half hour+ experience, it certainly flies by. I'm not the musical aficionado that Mainstream Chick is, but I was thoroughly entertained and highly recommend it. Even if you aren't a die-hard Broadway junkie.
For more on Hamilton, and how it went over with someone who'd never seen the show (or listened to its music), tune in to this edition of the Cinema Clash podcast!
Listen to "History, sacrifice and heroics with Hamilton, The Outpost and John Lewis" on Spreaker.