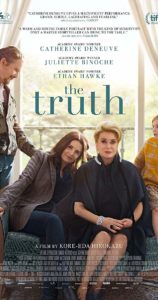 Director Hirokazu Koreeda's follow-up to his award winning Shoplifters could not be more different. No longer set in his home country Japan, The Truth is a mother-daughter drama set in a lovely Paris house where an aging actress and her grown daughter come together for the launch of the mother's memoirs. That the mother is played by the inestimable Catherine Deneuve and the daughter by the equally talented Juliette Binoche makes it a pleasure to watch, despite its fairly well-trodden storyline.
Fabienne (Deneuve) is one of France's greatest film stars. As the film opens she's being interviewed about her life and seems bored by the questions she's heard way too many times. During the interview her daughter Lumir arrives from New York with her husband Hank (Ethan Hawke) and their daughter Charlotte. When asked if she'd like to stop the interview, she replies, "It's nothing. My daughter and her little family." And that tells you just what you need to know about their relationship. Fabienne has never been there for anyone but herself, but her daughter Lumir is still trying to connect with her. And then she read Mom's book, which is filled with lies about their life together, and when she calls her on her fabrication, Mom doesn't bat an eye. It's her truth.
Meanwhile, Fabienne is learning her lines for a role in an upcoming sci-fi film about a mother and a daughter, where the mother doesn't age. She's playing the daughter in her old age. It's a bit contrived and probably supposed to resonate with Fabienne and Lumir's relationship, but it's too melodramatic to be connected. So Lumir and her family run back and forth to the set with her and watch from afar and spend enough time with her to realize she is who she is and they're all okay.
The Truth is a pleasant film and mostly you'll want to see it for Deneuve. She really doesn't age, or at least she does it the way we all wish we could. And now in her late 70s, she's still got it. Her portrayal of a self-centered actress who's done whatever was necessary to get where she is, is played with absolute assurance. And Binoche plays the wishful daughter without showing her wounds. Even Hawke takes advantage of his small role as the outsider to shine the light on Fabienne's character. So, great acting. So-so script. It's no Shoplifters, but it is worth seeing.
Interesting side note: La Vérité (occasionally released under its English translation The Truth) was a 1960 French film directed by Henri-Georges Clouzot, and starring Brigitte Bardot. It was was nominated for the Academy Award for Best Foreign Language Film. (There is a moment in the new film where Fabienne dismissed Bardot as one of the greats of French cinema.)
[Mainstream Chick's take: I was a big fan of Shoplifters so I was game to watch The Truth, especially for the trio of Deneuve, Binoche and Hawk. The performances are stellar even if the story itself isn't particularly groundbreaking. It's a bit reminiscent of last year's (disappointing) family melodrama Frankie with Isabelle Huppert as an aging French film icon. Huppert is probably the only other French actress who would have been able to pull off the Fabienne character, but it's nice to see the iconic Deneuve deliver on the role. The Truth is ultimately more structured and satisfying than Frankie. It balances the drama and light-heartedness surrounding family dysfunction and the exploration of regrets, forgiveness, manipulation and selective amnesia. Lots of folks will be able to relate.  -hb]
The film was previously slated to open just as the COVID-19 closed all the theaters. It will be screening in select theaters and on demand starting July 3rd. Check this link for platforms where it will be available.