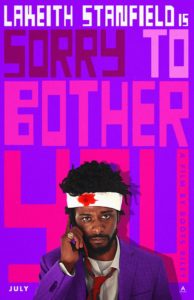 One of the best films I've seen lately, Sorry to Bother You doesn't fit neatly into any of the usual genres. It's an audacious anti-capitalist sci-fi comedy set in an alternate Oakland. The number one TV show has people getting punched in the face for money, and a nefarious mega-corporation called WorryFree has set up a program where people are being willingly enslaved. The central character is Cassius Green (LaKeith Stanfield, Atlanta, Get Out) known to his friends as "Cash" who lands a job as a telemarketer for WorryFree and quickly masters the secret key to success, moving him upstairs to become a power caller, where the pay is unbelievable if you can just get over what you're doing. Meanwhile his friends, co-workers, and girlfriend downstairs are organizing a strike to force WorryFree to pay them what they're worth. And Cash has to decide where his loyalties lie.
When we meet Cash, he's living in his uncle's garage and he's way behind in his rent. But he's optimistic that he'll be in the black soon. Part of his incentive to succeed is to impress his performance artist girlfriend Detroit (Tessa Thompson, Annihilation, Thor: Ragnarok). She's part of a secret anti-capitalist graffiti collective taking on the WorryFree, but she takes a part-time telemarketing job and joins the strike, making it even harder for Cash to walk through the strikers each morning surrounded by his brutish security forces. But when he's invited to meet with WorryFree CEO Steve Lift (Armie Hammer) and is offered the keys to the kingdom if he totally sells his soul, things get really weird.
Stanfield who played the character who yelled "Get out!" in Get Out is excellent as the guy getting everything he ever wanted while knowing he really shouldn't take it. Sorry to Bother You feels like a companion piece to Get Out in the way it deals with a black man in a white world. There's a party scene at Lift's house with one of the most cringe-worthy moments in film history. First time writer/director Boots Riley has delivered a provocative satire. There aren't many films that deal with resistance to the 1% and wage slavery with such subversive wit. This one is on my Best of 2018 list, and I highly recommend it to wide audiences. #PowertothePeople
No Comments Yet
You can be the first to comment!
Leave a comment