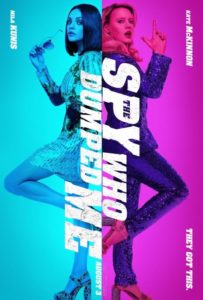 The difference between The Spy Who Dumped Me and Mission: Impossible – Fallout is that in a few months I'll still remember seeing and enjoying MI, whereas Spy will barely register a flicker of recall beyond, "Oh, yeah… that movie with Mila Kunis and Kate McKinnon? I saw it. It was okay." Kunis and McKinnon play Audrey and Morgan, two best friends in L.A. who get caught in the crossfire of a deadly (yet comical) spy game – thanks to Audrey's ex-boyfriend Drew (Justin Theroux). He's stashed a flash drive with vital information at Audrey's apartment, and when he goes to retrieve it, he has a slew of assassins on his tail. So it falls to Audrey and Morgan to get the drive to the drop – in Austria. Game on, people!

I love McKinnon in her SNL skits, but her acting chops pale compared to Kunis, who plays the straight-woman to McKinnon's antics. The two are fun to watch, but it could have just as easily been Kunis and McCarthy (i.e. Melissa) in the lead roles. The spy guys (Theroux, and Outlander hottie Sam Heughan as a suspicious but charming British agent) do a fine job providing the espionage eye candy as the bodies start to pile up around the gal pals. But they, too, feel sort of mix-and-match in terms of casting and character.
As for the plot, it's not very clear what the actual threat is with the information on the drive and who exactly wants it or why. Some things simply don't track; and I'm convinced there's a continuity issue near the end (though I seemed to be the only one in the audience who noticed or cared.) Whatever. It's not a huge deal. Comes with the genre.
The Spy Who Dumped Me is surprisingly violent at times, even a bit gross (it is rated 'R'). But it has its share of funny moments too. Overall it's very okay. But unlike Mission: Impossible, there's no added benefit to seeing it on the big screen. McKinnon on a trapeze doesn't quite measure up to Cruise's death-defying feats in MI. Then again, Cruise can't pull off hilarious, dead-on imitations of RBG, Jeff Sessions and Hillary.