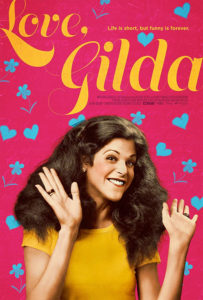 I loved Gilda Radner! She's the only celebrity whose death has ever made me weep. So when I heard there was going to be a documentary about her, I was thrilled. But while Love, Gilda is a nice walk down memory lane, it doesn't really capture the magic that made so many of us adore Gilda. It's a fairly chronological telling of her life story with a wealth of of archival footage and audio. And a lot of the film, despite being about one of the funniest, most joyful people ever, is kind of a buzz kill. But maybe it works best for people who didn't know and love her from way back, with no memory of her boundless heart, like the director herself who only came to appreciate her after doing fundraising videos for Gilda's Clubs, the cancer support centers started by Radner's  husband Gene Wilder after her death.
Director Lisa D'Apolito was fortunate that Gilda's brother entrusted her with ton of previously unseen material for her to work with though, particularly some audio tapes and her journals, which are read throughout the film by SNL alumni Maya Rudolph, Amy Poehler, Melissa McCarthy, Cecily Strong, and Bill Hader. They're really some of the best moments in the film. The problem is that the way the film is designed, it's clear that the director is trying to use the journals to explain Gilda's depression and her eating disorder, something that I doubt she ever really understood for herself. And the biggest missing piece for me was that the people closest to her during the years that she was the shining light – Bill Murray, Jane Curtin, and Dan Ackroyd – all refused to be interviewed. There are sweet archival moments with Gene Wilder and terribly sad scenes when she is dying from cancer, but ultimately you never really feel that you get to know her. Then again maybe that is really too much to expect anyone to do.
More than anything Love, Gilda will make you want to head to YouTube to watch some of Gilda's best bits from SNL in their entirety, or her one woman show, or even a few of her talk show appearances. Or buy her book. It's not a bad film, but it feels pretty surface when I was hoping for a deep dive into one of my favorite comediennes. If you loved her as I did, you'll want to see it. Just lower your expectations. And take a Kleenex or two.
The director told me she's working on a narrative version of the story with Gilda's brother. I can't imagine who could play her. Fingers crossed though. And there's a lot of other material from the brother that will probably come out soon. I look forward to that.