I know – these are three very different films. But I'm playing catch-up with my reviews! So I'll start with my favorite of the three (though Bumblebee comes in a surprisingly close second!).
I first saw Ben Is Back at the Middleburg Film Festival back in October and found it to be very poignant and timely. I recently re-watched it, to see how it holds up against all the BIG movies rolling out in advance of the Oscars. And hold up it does. Ben Is Back is a solid, engaging film about opioid addiction and a mother's desperation to help her son. Lucas Hedges (Manchester By the Sea) plays Ben Burns, a troubled 19-year-old who shows up at home unexpectedly on Christmas Eve morning after 77 days in rehab. His mom, played by Julia Roberts, agrees to let him stay for 24-hours on the condition that she follow his every move. His destructive past starts catching up with Ben in unexpected ways, leading to a tense overnight search for the family's kidnapped dog. Ben Is Back was directed by Lucas's real-life dad Peter Hedges (About a Boy, Pieces of April) and both have reason to be proud. The film is very moving without being oppressive, so it's suitable for family viewing. It comes out on the heels of a tougher watch, Beautiful Boy, about a father's struggle to help his meth-addict son (Timothee Chalamet, Call Me By Your Name) as he cycles through relapse and recovery. I give Ben Is Back the slight edge overall, though Chalamet's performance in Beautiful Boy is definitely awards-worthy. Both Lucas Hedges and Timothee Chalamet are credits to their generation of young-adult actors. Also worthy of mention: Julia Roberts delivers one of her strongest performances in years.
Arty Chick weighs in: I am in total agreement with Mainstream Chick on this one. It's an intimate look at what addiction does to a whole family, and it's smart in choosing to take just one day when Ben shows up unexpectedly and show how the family is affected. And Julia Roberts as the mom is really just perfect in her fear combined with her fierce love. It's a very sad and very well done movie.[jb]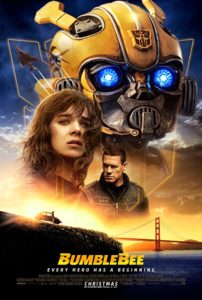 Yes,
Bumblebee
is, technically, a
Transformers
movie. But it's so much more – and totally deserving of all the buzz it's getting from fans of the franchise, as well as those who didn't know a Decepticon from an Autobot (consider my hand raised).
Bumblebee
is a very good movie, with heart, humor, action, and lots of 1980s nostalgia. The story takes place in a Northern California beach town in 1987. Hailee Steinfeld (
True Grit
,
The Edge of 17
,
Pitch Perfect 2
) plays Charlie, a bit of a loner struggling to figure out her life as she turns 18. She stumbles across a yellow VW bug in her Uncle's junkyard and takes ownership of the thing, which happens to also be an Autobot named B-127 that was sent to Earth by Autobot leader Optimus Prime to scout a location for his forces to regroup amid a Civil War with the evil Decepticons. B-127 has lost his ability to speak, so Charlie takes to calling him Bumblebee – and a true friendship is born. Think "ET" meets "Herbie the Love Bug".
Bumblebee
serves as a prequel to all those Michael Bay-directed high-action
Transformers
films of the 80s and 90s, so you don't have to have seen any of then to enjoy
Bumblebee
. It's directed by Travis Knight who is best known for animated fare like
Kubo and the Two Strings
and
Paranorman
. The screenplay and story are by Christina Hodson. The film definitely benefits from a woman's touch. Even if you don't particularly like sci-fi movies or the
Transformers
franchise, there are still likely to be parts of
Bumblebee
that resonate, especially for 'kids' who grew up in the 80s and 90s. It also helps that Hailee Steinfeld is very talented. Her performance elevates what might otherwise be just any ol' sci-fi action movie. Plus, the 80s soundtrack is not just fun to listen to; it plays an integral role in the film. Don't let the name or the premise steer you away.
Bumblebee
is a sweet ride.
I was so looking forward to
Vice,
ever since I saw the early trailers showing Christian Bale's eerily spot-on impersonation of former Vice President Dick Cheney. Bale (
Hostiles
,
The Big Short
,
American Hustle
) is the prosthetically-perfect embodiment of the guy who helped (mis)lead the U.S. into war against Iraq. But politics is depressing enough these days without a two-hour-plus reminder of how a President and a nation were hoodwinked into allowing Cheney to become the most powerful Vice President in U.S. history. The film takes a harsh, satirical approach to Cheney's life and wife (Amy Adams) and hunting skills (the guy Cheney shot basically apologizes to the VP for getting in the way of his rifle). It's like a dramatized version of a Michael Moore documentary. Bale is great; the film is a misfire. I get what director Adam McKay (
Anchorman, The Big Short
) was trying to do here. There's just nothing funny about reliving some of the worst moments in modern political history while we're in the midst of some of the worst moments in modern political history. The timing just couldn't be worse. And let's face it; the film is preaching to the choir. Save yourself the grief, and skip it. At least until 2020.
Arty Chick weighs in: Ditto what Mainstream Chick said. People who think this movie is a history lesson were clearly asleep through W's presidency. There are many problems with the film, but the one I found most glaring was that I never understood what made (makes) Cheney tick. Sure Bale looks like him and sounds somewhat like him, but there is no character development that clues the audience into the man and his evolution. Perhaps the filmmakers need to humanize an evil man made that impossible. But in the end, the smug way the tale is told made it too much for me to take, much less to like. [jb]
No Comments Yet
You can be the first to comment!
Leave a comment