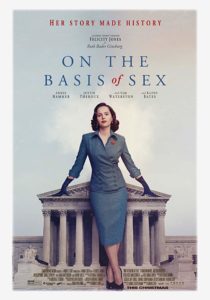 On the Basis of Sex is a solid, feel-good movie about a real-life superhero and pop culture icon, Supreme Court Justice Ruth Bader Ginsburg. It serves as a great companion piece to the recent RBG documentary, i.e. there's no harm in seeing both. It may even help that both films hit theaters in close proximity, at a time when SCOTUS is top of mind in the political and social arena.

On the Basis of Sex dramatizes a critical, formative chunk of time touched upon in the documentary, relating to RBG's (Felicity Jones, Rogue One) prowess and determination as a young lawyer, her pioneering fights for gender equality, and her marriage to an incredibly supportive – not to mention cute and smart – husband Marty (Armie Hammer, Call Me By Your Name). It's part love story, part courtroom drama.
The film was written by RBG's nephew Daniel Stiepleman, so he was probably cut a bit more slack than the average screenwriter when it came to creative license. Regardless, there's no arguing the basic facts of RBG's story, her undeniable strength, wit and intellect, and her well-deserved status as a source of inspiration – past, present and hopefully, well into the future!
For more on the film – including a dissenting opinion on whether it's worth seeing On the Basis of Sex if you've seen RBG – check out this edition of the Cinema Clash podcast: