Currently browsing the "
Ruth Bader Ginsburg

" tag.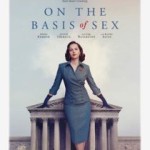 On the Basis of Sex is a solid, feel-good movie about a real-life superhero and pop culture icon, Supreme Court Justice Ruth Bader Ginsburg. It serves as a great companion piece to the recent RBG documentary, i.e. there's no harm in seeing both. It may even help that both films hit theaters in close proximity, at a time when SCOTUS is top of mind in the political and social arena.
Justice Ruth Bader Ginsburg aka The Notorious RBG is a fabulous role model for the masses. At 85 and with 15 years on the highest bench in the land, it's time that her story be told. She may be tiny, but she is formidable! This wonderful documentary is based on the autobiography she read in her own confirmation hearing, the story of her professional ascent to the Supreme Court along side the truly touching love story of her life with fellow Harvard Law grad Marty Ginsburg. It's a must see film!