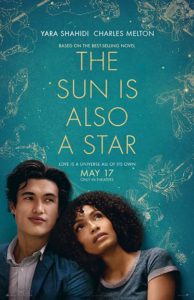 The Sun Is Also a Star is a fine though forgettable romantic drama for the YA crowd and possibly others who've read the best-selling novel of the same name by Nicola Yoon, the author of "Everything, Everything," which was turned into a movie that included such a dreadful twist that I declined to post a review back in 2017. The Sun Is Also a Star has the same general vibe and target audience as Everything, Everything but is significantly better, better. It's a meet-cute movie that delves into themes of love, chemistry, destiny, fate, immigration, deportation and assimilation. All in the span of a (rather slow) day.
Here's the gist: Korean-American Daniel Bae (Charles Melton, TV's Riverdale) spots Jamaica-born Natasha Kingsley (Yara Shahidi, TV's Grown-ish, Black-ish) exiting the New York subway and is convinced they are destined to meet and fall in love. Trouble is, Natasha doesn't believe in love, and her family is just hours away from being deported. So there's really no time to test Daniel's theory. Except there is. They somehow manage to squeeze in quality time between her meetings with an immigration lawyer (John Leguizamo) and Daniel's interview to get into a prestigious college. As the hours pass, and the sun sets, they fall in love. But fate can be so cruel.
The movie almost ends on a bittersweet note that might have been considered a brave choice. But then it goes the way of a conventional Hollywood RomDram. I haven't read the book so I don't know how the story plays out in its original form. If I were 18, I'd probably be inclined to find out. Alas, I will take the ending – and the movie itself- for what it is. Easy breezy chick flick material.