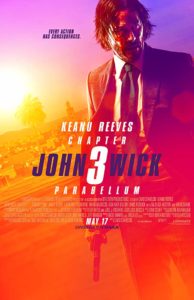 John Wick: Chapter 3 – Parabellum is insanely violent yet wildly entertaining – if you can withstand a barrage of fight scenes rife with bullets, swords, fists, head-butts, horses, motorcycles, crackling bones, shards of glass, big guns, small guns, and lots and lots of knives. The prolonged violence was a bit over the top for my taste, but I can't help but appreciate the totality of what the franchise has been able to deliver since Wick first came on the scene in 2014. Chapter after chapter, the heart of the story remains the same: Formerly retired super-assassin John Wick (Keanu Reeves) just wants to live in peace with his dog and wallow in the memory of his late wife Helen. Good luck with that, John.
Chapter 3 picks up right where Chapter 2 left off, with Wick on the run after killing a bad guy in what's supposed to be a sanctuary for assassins – New York's Continental Hotel. Justified or not, the killing was a breach of assassin protocol as enforced by the High Table, a secret association of crime organizations that contract killers are sworn to serve. Cross the High Table, and there will be consequences. Wick is declared excommunicado, with a 14 million dollar bounty on his head. Every hitman (and woman) in the world is after him.
But hey, he's the legendary John "Baba Yaga" Wick, ruthless, sharply dressed, invincible. And charmingly intense. I'd put my money on him.
Fans of the franchise will recognize some familiar faces in Chapter 3, including: Ian McShane as Winston, the sly manager of the Continental; Lance Reddick as the resourceful concierge; Laurence Fishburne as the powerful, bird-loving Bowery King; and Tobias Segal as a Bowery informant.
Among those new to the scene: Halle Berry as a kick-ass assassin who owes Wick a favor (that he seeks to collect); Angelica Huston in a small but effective role as a mysterious woman known as "The Director," and Asia Kate Dillon as "The Adjudicator." #GirlPower
John Wick movies are modern noir with a non-stop rush of adrenaline punctuated by some of the most imaginative, improbable, violent and darkly funny action sequences out there. It's amazing to know that Reeves (at 54) really is in the thick of it, preferring to do his own stunts so as not to break the momentum for the audience. Still, it's hard not to look for evidence of a stuntman or body double, even if there isn't one. (Note: Wick Director Chad Stahelski was Reeves' stunt double in the 1999 sci-fi action juggernaut The Matrix). No doubt, Reeves and Tom Cruise (pulling off Mission Impossible stunts at 56) are setting a new bar for action-hero longevity. On the cusp of 53, Berry shows that she's got game too, more than holding her own in the martial-arts heavy ballet of battle that has come to define the Wick universe.
Si vis pacem, para bellum. If you want peace, prepare for war.
Forewarned is forearmed. John Wick Chapter 3 – Parabellum is not for newbies to the Wick franchise. It expands on a premise laid out in the previous two films, and offers deeper insight into Wick's background and the power of the High Table. It also expands on the body count, exponentially. Should there be a Chapter 4, I wouldn't mind a roll-back of the violence in favor of some additional story and character development. But among serious Wick fans, I suspect I may be in the minority. I'll just cover my eyes and roll with it. Again.
Arty Chick weighs in: I was a huge fan of the first John Wick. And I have a special place in my heart for Keanu in general. But I was not blown away by this one. Sure it was entertaining, but the fight scenes seemed to go on and on and not in a good creative way like the other Wick flicks. It felt like there was less story here than in the previous outings, and I walked away feeling that this one was just a long exposition for the next flick. It certainly set up the players and the world and has me looking forward to the 4th episode of JW. I agree with Mainstream Chick here. If you didn't see the others, this is no place to start. But for those of us who have grown to love John and his dogs, it's another bloody fun ride.