Currently browsing the "
Ian McShane

" tag.
John Wick: Chapter 3 – Parabellum is insanely violent yet wildly entertaining – if you can withstand a barrage of fight scenes rife with bullets, swords, fists, head-butts, horses, motorcycles, crackling bones, shards of glass, big guns, small guns, and lots and lots of knives. The prolonged violence was a bit over the top for my taste, but I can't help but appreciate the totality of what the franchise has been able to deliver since Wick first came on the scene in 2014. Chapter after chapter, the heart of the story remains the same: Formerly retired super-assassin John Wick (Keanu Reeves) just wants to live in peace with his dog and wallow in the memory of his late wife Helen. Good luck with that, John.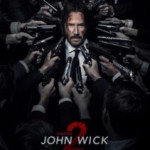 He's back! And he's still a bad ass killer. I called the original John Wick stylishly violent, and this one takes it up another notch, both on the style and the violence. But it's still the story of a sad and weary hit man who's brought back in to the violent world he's trying to leave behind. Keanu Reeves stars as Wick and he's just as fun to watch as the last time.