He's back! And he's still a bad ass killer. I called the original John Wick stylishly violent, and this one takes it up another notch, both on the style and the violence. But it's still the story of a sad and weary hit man who's brought back in to the violent world he's trying to leave behind. Keanu Reeves stars as Wick and he's just as fun to watch as the last time.
The film starts just where the first one ended with John getting his precious '69 Mustang back from the guys that were stupid enough to steal it. And once home with his new dog, he's ready to take it easy. But an old Italian "friend" Santino shows up with a request he can't refuse, but he does anyway and of course all hell breaks loose. And so John shows up once again at that mysterious hotel that caters to assassins and is soon meeting with Santino who has a marker from John that he is cashing in. Santino's powerful father died recently and instead of handing over the family biz to his son, he gave it to his daughter Gianna! Santino wants John to kill her.
This time most of the action takes place in Rome where the daughter is being given a seat at the exclusive table of the global mob syndicate.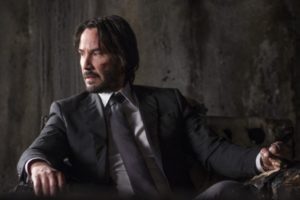 John goes after her at a fabulous party taking place in some stylishly decrepit Roman ruins, complete with a maze of underground tunnels. But once the deed is done, Santino decides to clean up loose ends, sending his henchmen after John. There ensues a long cat and mouse high body-count battle, with John showing why he's still considered the best in the biz. His main foe is Cassian (Common) who he fights across Rome all the way back to the hotel where assassins are forbidden to kill, so he's safe. But then Santino puts out a $7 million hit on John and he has to fight his was across New York City with just about everyone trying to take him out to find Santino and kill him. It is amazing how many assassins live in New York!
What's really fun about John Wick: Part 2 is the way that it creates this assassin world, expanding on a lot of mysterious plot points from the first film, and the rules of the assassin culture dictate the shape of this story. Reeves is great at the role, doing a lot of his own stunts apparently. There's not a whole lot of dialogue, but the film moves at such a fast pace with fabulous visual touches, that the story doesn't really need a lot of talk. And there are a lot of great smaller characters played by Laurence Fishburne, Common, John Leguizamo, and Ian McShane that add more backstory. I'd say go see it if you saw the first, though I think even without you'll probably have fun, if you're into the genre. I'm looking forward to John Wick: Part 3.