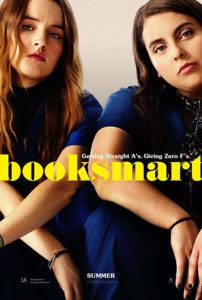 Ever dream of a high school do-over? Wonder what you might have done differently in those final years of anxious adolescence? Booksmart tackles the what-ifs in a smart and entertaining way as two best friends – both academic overachievers – suddenly realize they probably could have partied more and studied less, without jeopardizing their futures. Their epiphany comes on the eve of high school graduation, leaving the gal pals one last chance to experience all the fun and hijinx they've missed out on the past four years. This isn't a stereotypical 'teens transform from nerds into popular kids' movie. Amy (Kaitlyn Dever) and Molly (Beanie Feldstein) are self-confident and comfortable in who they are and plan to be. They approach their night of fun with the same commitment they applied to their studies, only to learn that book-smarts don't always translate into street-smarts.
Film and TV actress Olivia Wilde makes a solid directorial debut with Booksmart. It's a coming of age story told in a way that's fresh yet harkens back to classic teen movies that Wilde says she enjoyed in her youth, like The Breakfast Club, Dazed and Confused, Fast Times at Ridgemont High and Clueless. The filmmakers also drew inspiration from buddy movies like Beverly Hills Cop and Lethal Weapon, where partners have each other's backs… like Amy and Molly do. Most of the time. Another inspiration: female friendship movies like Bridesmaids.
Booksmart doesn't quite rise to the level of Bridesmaids, but it does share some of the same sensibilities relating to friendship and misunderstandings and judging people without knowing who they are or what they may be going through. It also knows when to interject moments of comic relief when things start to get too heavy. That's where the solid supporting cast comes into play. Billie Lourd steals every scene she's in as the quirky and seemingly omnipresent Gigi; Jason Sudeikis (Wilde's significant other) is perfectly cast as the high school principal/uber driver; Jessica Williams is everybody's favorite teacher, Miss Fine; and Lisa Kudrow and Will Forte make brief but hilarious appearances as Amy's parents, who are trying so hard to be 'woke' and supportive.
Ultimately, it's the chemistry and banter between Amy and Molly that sells the story, which takes some preposterous turns in the service of comedy. Dever (Beautiful Boy, Short Term 12) and Feldstein (Lady Bird, Neighbors 2: Sorority Rising) lived together throughout the production to boost the authenticity of their on-screen friendship. I'm sure that didn't hurt, but the two have clearly demonstrated in recent years that that they are versatile young actors with the potential for long, bright futures in the movie biz.
Booksmart is rated R for sexual content and language, drug use and drinking – all involving teens. But it never gets over-the-top raunchy. The best way to know if it's right for you is to watch the first six minutes, uncut, rather than the trailer. If you like what you see, chances are you'll like this movie in its entirety. I love that Annapurna Pictures made this available on YouTube. It's like downloading the sample of a book, then making the decision on whether to purchase the rest. Note: If watching the following at work or with young kids around – use headphones!