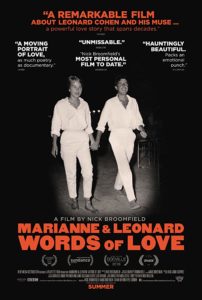 Oh, to be a great man's muse! To have him write poetry and songs about you, to you, for you. And all you need do is sit at his feet and adore him while he creates! This is the story of Marianne and Leonard. Marianne Ihlen was a Norwegian single mom living on the Greek island of Hydra in the 1960s, when Leonard Cohen came into her life. It was a love that would last both their lifetimes and would be responsible for many of his most memorable songs. Sadly though, what this documentary fails to tell us is who Marianne was. Her presence is only a means by which to tell the story of Cohen and his rise from writer/poet on a Greek isle to global folk music star. And while I did learn a few things about Leonard, the long stretches of the film with Marianne sitting on a boat or with people talking about her were actually boring. And at the end, you're left with nothing of her to hang onto.
The two met on the beautiful, isolated Hydra, which becomes a draw in itself in the film. It was a playground for all sorts of beautiful people, the rich and famous, and the free love hippies of the day, many with feral children running wild, including Marianne. Leonard needed a place to write and it was perfect, especially once he found a woman to take care of him and act as his muse. And so they lived together for years, even after he found his musical calling and shuttled back and forth between New York and Hydra, then concert gigs and Hydra, then less and less and then not at all. And yet it was a very long-term relationship. Marianne came to him, even while he was living the rock star, girl in every port life. And though they never got back together, and she moved back to Norway and married, they were always connected. And they died just months apart in 2016.
I'm sure there are better films to be made about Leonard Cohen and perhaps about the community of Hydra in the 60s. But this one feels disjointed and self-serving, especially when the director feels the need to tell us that he slept with Marianne and was her confidant. He wants to tell us about his life and his connection to her and tangentially to Cohen. And ultimately Marianne & Leonard: Words of Love is only a bunch of moments, some interesting and some not so much, crammed together that don't add up to much of a coherent narrative. So disappointing, but maybe that's the folly of trying to pin down a muse.