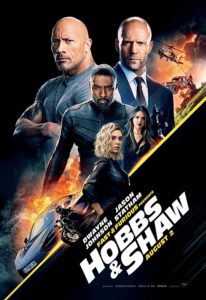 Some films – like Once Upon a Time… in Hollywood – require a great deal of thought and dissection and debate. They are the full-course meal that swirls around the discriminating palate to be savored or rejected, or something in between.
Sometimes, however, you just want popcorn for dinner. And that's where movies like Fast & Furious Presents: Hobbs & Shaw come into play. Bon Appétit!

Hobbs & Shaw is the first spin-off of the popular Fast & Furious franchise (eight films and counting) that all share a theme of family, fast cars and over-the-top action sequences. Hobbs & Shaw pays homage to its high-octane genealogy while also working as a stand-alone film that sets up a new team. At the forefront: former federal agent Luke Hobbs (Dwayne Johnson), mercenary outcast Deckard Shaw (Jason Statham), and Shaw's MI6 agent sister, Hattie (Vanessa Kirby). Together (begrudgingly), they must find a way to keep the bad guys – led by a Terminator-esque super-soldier villain played by Idris Elba – from getting hold of a deadly super-virus. The fate of the world hangs in the balance!
Comical banter, fight scene, chase scene, more comical banter. Rinse and repeat. Put it all together, throw in a few fun cameos, and top it off with a heartwarming message about family and healing, and you've got two-plus hours of fast and furious entertainment. Stay all the way through the credits to catch all the bonus scenes. And if you feel the need to go really really big or go home, Hobbs & Shaw is playing on IMAX, though any biggish screen should suffice. Make the popcorn an extra large instead.