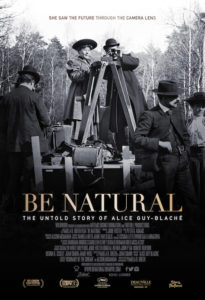 She was there at the very beginning of the film industry. She directed hundreds of popular films and built her own studio that rivaled all the others of the day. She wrote and produced her films in Europe and the US. And yet, few filmmakers today know about her. Be Natural: The Untold Story of Alice Guy-Blaché aims to correct that oversight. Guy wasn't just the first female filmmaker, she was the first person to make a narrative film. When the moving picture was invented, it was used to shoot daily life or documentary, but she was the first to see the potential for stories to entertain. And because she was a woman, despite her groundbreaking work, she was lost to history. But no longer!
In 1897 Guy started working as a secretary at Gaumont, then a photographic equipment company in Paris. And when the motion picture was invented, they became the first film production company, making shorts to promote their new projector/camera. Guy asked her boss if she could shoot a film and he agreed. Her first film was called La Fée aux Choux (The Cabbage Fairy) and told the story of babies magically being born from cabbages. It was a huge success and she quickly moved from the director's chair to become Head of Production for the company. And for 20+ years she kept on making films, inventing film language, and innovating. She put sound to film years before the talkie. She used special effects and color. She even made the first film with an all African-American cast. But marriage took its toll on her. After marrying Herbert Blaché, she followed his career to the US. They eventually made it to Ft. Lee, New Jersey where she built her studio, the first for a woman. And it was highly successful, but Herbert had plans for himself and left her and their child behind as he moved to Hollywood. And though she eventually followed him, she went bankrupt and never directed another film. She died in 1968.
It's a sad tale. The filmmakers were fortunate to have several interviews with her in her old age as well as a few with her daughter. But a lot of the film is others talking about her, mostly people who didn't really know about her and are amazed now that they've discovered her and her legacy. Perhaps the most surprising of the bunch are Martin Scorsese and Peter Bogdanovich, both men who claim to be film historians. But what the film makes clear are the many ways her history was erased by men – crediting assistants and her husband with her work, ignoring her accomplishments in the Gaumont history records, even failing to accept her autobiography for publication during her lifetime. It's yet another exasperating tale of pioneering women not getting their due! Damned patriarchy!
Be Natural: The Untold Story of Alice Guy-Blaché is an important story well told, despite a bit too much CGI, which I started out thinking was pretty cool, but after a while seemed too distracting. The thing that feels missing though are the films themselves. There are snippets and lots of talking about them, but what you really want to do is see the actual footage. Fortunately the six part series Pioneers: First Women Filmmakers came out last year and is streaming on Netflix and includes many of her films, as well as those of a lot of other forgotten trailblazing women. So if you're into film history or women's history or you like shorts (I do), see the doc and then binge on the films. I know I have them cued up now.
No Comments Yet
You can be the first to comment!
Leave a comment