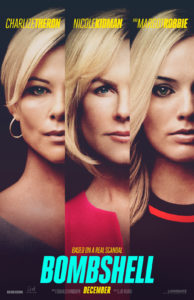 This movie has so much going for it – a knock-out cast, a ripped from the headlines #metoo #girlpower story, a humiliating takedown of the creator of Fox News – so why in the world isn't it more compelling? Bombshell is taken from a true story. In case you missed it, a couple of years back, Gretchen Carlson (Nicole Kidman) one of the blondes of Fox News was fired and rather than just take it on the chin, she sued her boss, Fox founder Roger Ailes (John Lithgow), for sexual harassment and opened the gates for a flood of other women within the organization to come forward with similar stories, culminating in his ouster. At about the same time another of the beautiful women of Fox, Megyn Kelly (channeled here by the amazing Charlize Theron) decided to have her very own #girlpower moment during a Republican presidential debate when she famously asked GOP candidate Trump about his sexist treatment of women and was the recipient of one of his memorable disses about "blood coming out of her wherever." You might think these two women would be natural allies then. But it seems that at Fox News it was every woman for herself.
There's a third woman who figures prominently in Bombshell who is a composite character meant to show the audience what it was like for Gretchen and Megyn when they were just pretty young things trying to break into the news biz at Fox. Margot Robbie plays Kayla Pospisil, a naive Christian conservative with a lot of ambition. It is her lot to demonstrate how Ailes humiliated the women he hired. And it is disgusting and distressing to watch. But once Gretchen goes public and a lot of the other women of Fox come forward with their stories, the office culture becomes divided between "Team Roger" and a "take him down" team. But Megyn stays above the fray, cautious to keep herself safe and you're wondering which side she'll land on.
By focusing the film on Megyn Kelly rather than Gretchen Carlson, Bombshell makes a choice to sideline the hero of the story. Sure Megyn is the bigger star, and she did tell her story after Gretchen began her suit, and according to some she was instrumental in getting a lot of the other women to come forward. But you never really come to understand her motives or what she was really playing. (According to the Washington Post, the Kelly and Carlson teams both claim the bigger credit for taking Ailes down.)
Theron's Megyn Kelly is a frighteningly perfect performance. And Robbie plays the sacrificial lamb with great flare. But Kidman seems wasted in her forgotten role. The biggest problem though is that the story never takes off. It feels very by-the-numbers. The political landscape of Fox News is never mentioned, nor the rest of the world's #metoo movement. It's a very safe script, a missed #girlpower opportunity. This is one you can wait for on a plane or stream when it comes to your favorite provider. No need to run out to the movies.
[Mainstream Chick's take: Arty Chick hits the nail on the head with this one. I couldn't put my finger on why I didn't like it more than I did given all the elements in play. I even watched it a second time to see if I was missing something. I did in fact like it better the second time around, perhaps because I was able to take an extra minute to marvel and chuckle at the ensemble of look-alike stand-ins for Bill O'Reilly, Judge Jeanine Pirro, Geraldo Rivera, Greta Van Susteren, Rudy Giuliani, etc. Plus, there's a nostalgia factor for me. The film took me back to my newsroom days – the good, the bad and the ugly. There's plenty to recognize regardless of what news organization you watch or may have worked for! Bombshell is certainly worth seeing for Theron's eerie embodiment of Megyn Kelly and for the general appeal of witnessing a group of women finally stand up to the man. Problem is, many of those women peddled and profited off false narratives and crazy right-wing agendas for far too long, and I have trouble getting past that little tidbit. Thus my somewhat tempered endorsement of the film. It's not 'the bomb' (as the kids might say); it's more like a sparkler. -hb]