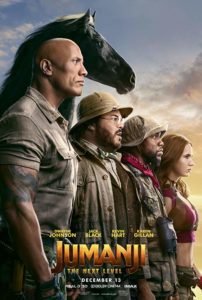 This one's easy. If you saw and liked the 2017 film, Jumanji: Welcome to the Jungle (which I rented this week as a primer), then it's totally worth taking a couple hours to play along, again. The Next Level is not as good as Welcome to the Jungle; it drags a bit in the second half as the narrative gets convoluted. But it's still an entertaining ride that – like its predecessor – has plenty of family-friendly action, humor and heart.

The Next Level reunites the four teenagers who stumbled across the board-turned-video game "Jumanji" while serving detention, and emerged from a life-altering adventure as besties (think The Breakfast Club meets Pokemon). The teens plan a meet-up while home for winter break from their respective colleges – but Spencer is a no-show. He's found his way back into the dangerous game. Martha, Fridge and Bethany soon follow, along with some other folks who inadvertently get sucked in. That's what breathes new life into The Next Level and Jumanji's returning avatars – Dr. Smolder Bravestone (Dwayne Johnson), Dr. Shelly Oberon (Jack Black), Mouse Finbar (Kevin Hart), Ruby Roundhouse (Karen Gillan) and Seaplane (Nick Jonas).
The game has changed, but the rules remain essentially the same: work together to save Jumanji, call out its name, and get back to the real world. Or else, it's Game Over.
Once again, there are obstacles to overcome, lessons to be learned, adventure to be had, jokes to be made, bonds to be forged.
The Next Level features a new Avatar, "Ming" played by Awkwafina (The Farewell, Oceans 8) and the introduction of Spencer's mobility-challenged Grandpa (Danny DeVito) and his old friend Milo (Danny Glover). They all play pivotal roles in the new game.
For maximum enjoyment, it helps – tremendously – to see Welcome to the Jungle before The Next Level. Otherwise, you could easily get lost in the game, and miss out on all the inside jokes. And that would be a shame, especially since it's highly unlikely that this "next level" is the last for the Jumanji franchise, adapted from a 1981 fantasy children's picture book by Chris Van Allsburg. Let the games… continue.