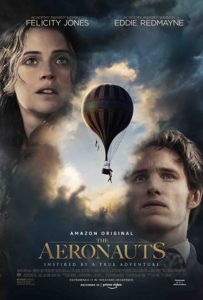 The Aeronauts is one of those movies that plenty of folks will like, but a lot of critics will wrestle with. It's good, but it's also disappointing. I saw The Aeronauts at the Middleburg Film Festival immediately following a screening of A Beautiful Day in the Neighborhood and that may have clouded my foray into the clouds with Eddie Redmayne and Felicity Jones. Mister Rogers is a tough act to follow! Redmayne and Jones (co-stars in The Theory of Everything) play a pair of adventurers trying to set a world record – and prove you can predict the weather – by sailing a hot-air balloon thousands of feet up into frigid skies in 1862. Oxygen deprivation is never a good thing. The Tom Harper-directed film, inspired by true events, has some great special effects and cinematography but overall drifts more than it soars.
Arty Chick caught 'The Aeronauts' at Middleburg as well. This was her take:
Based on a true story was, we found out later, a stretch. This story of a scientist and his female pilot heading up into the stratosphere in a balloon to try and break the altitude record and document key data that would lead to accurate weather prediction is a mash-up of the true and the dramatic. The scientist James Glaisher (Eddie Redmayne) did exist. But the woman who accompanies him called Amelia Wren (Felicity Jones) is a composite character. Sadly for us as we cheered the #girlpower moments of the film, no women went up in those balloons. But does that matter? The film is at times very exciting and if you have a fear of heights, even more so, as Amelia climbs out into space hanging thousands of feet up in the air. The setup for the story is pretty straightforward. Our scientist is ahead of his time and thinks he can predict the weather. He only needs to go up in a balloon and collect some data to prove it. The scientific establishment laughs at him. So he seeks out the only pilot out there, a woman who lost her husband in a horrible balloon accident. And off they go after he talks her into it. Sadly, the story doesn't really soar. It's got its moments, but the relationship doesn't click and the many flashbacks to various times in both of their lives take you out of a dangerous period survival adventure. The effects are quite good, but ultimately I wasn't sold.
For more on the ups and downs of The Aeronauts, check out this episode of The Cinema Clash podcast: