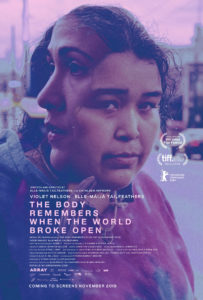 This is a total indie gem. It's the story of two Indigenous women who meet by chance on a street in Vancouver as one of them is fleeing domestic abuse. What follows is told in real time as Áila (Elle-Máijá Tailfeathers, also the co-writer/director) tries her hardest to help Rosie (Violet Nelson) see her situation for what it is. The film was inspired by Tailfeathers's real life experience in a similar situation. It's a story told from the perspective of a middle-class Indigenous woman who is trying to bond with another Indigenous woman of a lower class. Though they share a deep cultural connection, their lives could not be more different. It's a powerful film.
Áila is in her own little world worrying about herself when she runs into Rosie on the street. Rosie is pregnant, crying, barefoot, wet from the rain, and has clear signs that she's been hit. Áila asks if she'd like to come inside and change her clothes. Rosie agrees, but she's very wary of Áila's kindness and even as Áila tries to bond over their Indigenous ties, she's reticent to trust her. But she trusts her enough to go with her to a safe house, though she doesn't want to stay.
This 105 minute film is shot in a way that it seems like one long take, but it's not in a show-offish way. The camera stays with one or the other woman as they have tea, bond for a moment over Joni Mitchell, take a taxi to the safe house. It's very effective. There isn't a lot of action and there are plenty of silences, but you come away feeling like you were the third person in the room for something quite intimate.
The film has a lot of subtext about Indigenous women in Canada and you can't help but think about all the missing and murdered Native women or the forced removal of children and colonial attitudes that inform Rosie's decision not to just up and return to her family. The way the film deals with an abused woman's choice to go back to her abusive partner is achingly authentic. And first time actress Violet Nelson's Rosie is a total surprise. This is a must see film for a lot of reasons — cinematographer Norm Li's handheld shooting, both actresses' performances, and a powerful, well-told story.