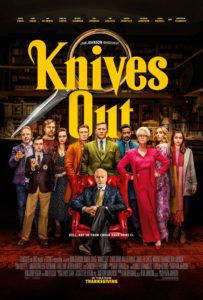 I caught this one at Middleburg, and sadly it was my biggest disappointment of the festival. As whodunits go, the jig is up pretty early on. But it has so much going for it, with a killer cast — Christopher Plummer, Daniel Craig, Chris Evans, Jamie Lee Curtis, Michael Shannon, Don Johnson, Toni Collette and Ana de Armas — and a fun setup, that I kept hoping.  It is of course difficult to review since it depends on the element of surprise, and director Rian Johnson (Star Wars:The Last Jedi) even filmed a "don't tell anyone the secret" spot to go before the movie. So here's what I can tell you:
Rich and famous crime novelist Harlan Thrombey (Plummer) is found with his throat slit in his home, with the whole family there for his 85th birthday party. Everyone in the family has a motive, of course. The police rule it a suicide, but Detective Benoit Blanc (Craig) thinks there is more to the story. He's been hired anonymously to look into it. And so he interviews them all one by one and we hear their stories in flashback. And Blanc is right. There is more to it. But I can't tell you what, cause that would ruin it for you, and the director asked us not to.
My disappointment stems mainly from expecting an Agatha Christie sort of murder mystery and being served a simpler no-thrills story played for laughs instead. But I suspect people who were fans of 80s classic Clue will have a lot of fun with Knives Out. Anyway, the film is full of funny scenes, good acting, and clever moments. It's entertaining, but ultimately it doesn't add up to much.
[Mainstream Chick's take: I'm SHOCKED – shocked I tell you! I totally enjoyed this film and am surprised Arty Chick didn't. I found it to be sharp, witty and thoroughly engaging. Like 'Clue', only smarter. It's a modern take on the mystery genre that family members can easily watch together after over-indulging at the Thanksgiving dinner table. To me, the cast is so good – and looks to be having so much fun with their roles (especially Daniel Craig, channeling a bit of Inspectors Clouseau and Poirot) – that it doesn't even matter if you happen to guess right as to whodunit, though chances are you won't. -hb]