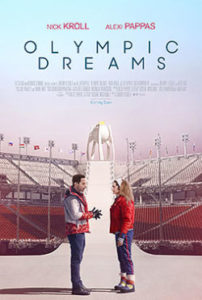 Olympic Dreams is an odd little indie meet-cute that takes elements of a romantic dramedy, sports movie and documentary, puts them in a blender, and spits out an uneven story that is overshadowed by a very cool setting: the 2018 Winter Olympic games in PyeongChang, South Korea. It's about a relationship that develops between cross-country skier Penelope (Alexi Pappas) and volunteer dentist Ezra (Nick Kroll). They are two lost souls at a crossroads in life.
The setting is a character unto itself – and the dominant one at that. The filmmakers (including director Jeremy Teicher and his wife, Pappas, a former Olympic runner) got unprecedented access to the Athletes' Village and shot the film "guerrilla style", in a catch-as-catch-can sort of way that gives Olympic Dreams a strong documentary vibe. Real athletes are seen popping in and out of the dentist chair, partying, playing air hockey, or catching a bite in the dining hall. Olympic hopefuls should check it out.
Pappas and Kroll are likeable and authentic as Penelope and Ezra, but, as they dance around the edges of attraction, their chemistry isn't strong enough to generate any real feels. Penelope is actually more fun to watch when she's flirting with Gus Kenworthy, an openly gay Olympic freeskier who plays himself.
Pappas, Kroll and Teicher co-wrote the script, which was probably more of an outline: Penelope and Ezra are a pair of introverted sad sacks who should be celebrating the fulfillment of a dream but are mired in the uncertainties of what comes next. Ad lib as need be; throw in a few poignant, awkward and funny moments here and there; and pray that the story arc catches up with you before the final scene at a bus stop (no airport terminals to run through in the Olympic village). Roll credits.
Olympic Dreams offers a fascinating peak behind the curtain of the Athletes' Village at an Olympic games. But as sports romdrams go, it's rather bland. Unlike The Cutting Edge (1992), which I can re-watch a gazillion times, Olympic Dreams will likely fade from my consciousness long before the next Winter Olympic games – in Beijing, 2022.
No Comments Yet
You can be the first to comment!
Leave a comment