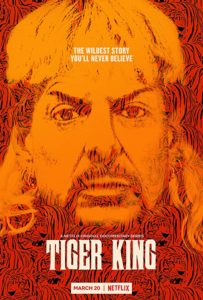 Wait, how did Tiger King get on here? It's a documentary series, not a film! Too bad. I'm giving myself permission to write up (or not write up) whatever the heck I feel like until we're through the Covid-19 pandemic. I didn't want to watch Tiger King. It's seven episodes! About a bunch of odd ducks who own Big Cats! So not my bag. But my curiosity got the better of me, especially as my social media feeds exploded with references to this "crazy" "wait – it gets crazier" "trainwreck of a show" featuring a mulleted, gun-toting, polygamist country-music singer who presides over a roadside zoo in Oklahoma. Tiger King – and its bizarre cast of characters – has obviously captured the cultural zeitgeist. So I devoted my rainy Saturday in social isolation to gorge on this 'stranger than fiction' true-crime saga best described (or reasoned away) as comfort food for the twisted soul.
It's really, really, really hard to explain why you may want to watch Tiger King. It's not for everybody. And it's certainly not for kids. This aint no "Wild Kingdom." But… if you have Netflix, it can't really hurt to watch the first episode in its entirety and then decide if you want to continue. If you make it through the second and third episodes, you'll have no choice but to commit to the rest. The twists and turns are never-ending. Each more bizarre than the next.
Tiger King will most likely appeal to those who buy into the craziest of reality shows and love to binge-watch "Dateline." Folks like me – who've actually worked in reality television – know all too well that producers (and documentary filmmakers) end up sifting through tons of footage to fit (or manipulate) a chosen narrative that is ultimately designed to shock, entertain, and maybe even inform. Tiger King does all that.
Unfortunately, it also gives many of the eccentric, annoying, and shady participants what they crave most: attention, publicity, exposure – even as they complain about how they're portrayed in the docuseries. Am I right, all you cool cats and kittens? I hate feeding into the frenzy of undeserved celebrity, but hopefully – like Covid-19 – this too shall pass.
Bottom line: I'm not advocating you watch Tiger King. But I won't judge if you do. We're living in scary times. So watch what you will. Just wash your hands when you're done.
Note/update: Due to the absurd popularity of the Tiger King docu-series, Netflix cranked out what amounts to an "After the Rose/Where Are They Now?" type special featuring Joel McHale interviewing some of the supporting players. Aka "episode 8: The Tiger King & I". It's really lame, but if you're still in quarantine and curiosity gets the better of you, once again, you'll be forgiven for giving in to the bandwagon mentality.