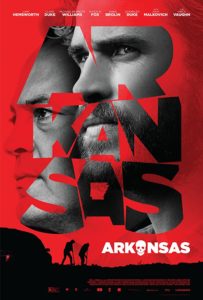 Arkansas is one of those indie flicks that somehow finagled a pretty impressive cast – Liam Hemsworth, Vince Vaughn, John Malkovich, Vivica A. Fox – even though it's directed by a first timer, Clark Duke (actor from Hot Tub Time Machine, The Office), who also wrote the adaptation and took one of the lead roles. It's the story of a couple of low-level drug runners Kyle (Hemsworth) and Swin (Duke) who bumble their way through the Southern drug world working for a mysterious guy named Frog (Vaughn). Along the way they meet Ranger Bright (Malkovich) who becomes their direct boss and local nurse Johnna (Eden Brolin, Josh's daughter) who somehow falls for Swin. It's a film that might have worked if the director/writer had a better sense of timing and character development, but it's ultimately a waste of talent and time.
Kyle and Swin are hired to take some drugs to Texas. But along the way they're Shanghaied by Ranger Bright, who turns them into his minions, making them live and work at a park while they continue to run drugs for him and Frog. There's another intermediary named simply Her (Vivica A. Fox) for some unknown reason. We don't meet Frog until way into the movie and get his backstory. His story is so much more interesting that when you get back to Kyle and Swin, you're mostly hoping to see more of Frog.
The film is overly long (115 minutes) and too convoluted. But my biggest problem with it was that Liam Hemsworth is so underutilized as to be nearly invisible. He's just a strong man with almost no character. Why would you cast someone like him and not use him? And Eden Brolin is cute and all, but the love story with Swin, who is kind of a creepy character, makes no sense at all (except that Clark Duke wanted to have a hot on-screen girlfriend.) It's streaming now, but I cannot recommend it.
No Comments Yet
You can be the first to comment!
Leave a comment