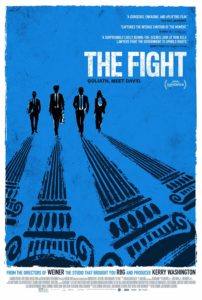 The ACLU (American Civil Liberties Union) has been around for a hundred years. Its mandate is "to defend and preserve the individual rights and liberties guaranteed to every person in this country by the Constitution and laws of the United States". With the election of Trump their job got a lot harder. This timely documentary follows just five lawyers – Brigitte Amiri, Joshua Block, Lee Gelernt, Dale Ho and Chase Strangio – and the cases they're championing. They're advocating for children ripped from their parents at the border, working against the clock to help a detained immigrant teen who was raped and denied an abortion, challenging the ban on transgender people in the military, and questioning the government's attempt to put a citizenship question on the 2020 census. By focusing on the lawyers themselves and their day to day lives and motivations, you feel the urgency of their work and their deep personal dedication to the constitution, and they all come out looking like the heroes we need at this time in history. It's a powerful film!
THE ACLU has always had the backing of the left, but sometimes their work has been hard to take, as when they fought for the rights of the 2017 "Unite the Right" rally marchers in Charlottesville. In the film, they're appalled at what happened and admit that taking them on as clients was not universally agreed upon within the organization, but ultimately they must stand behind the right to free speech. Since the inauguration, they've sued the government around 150 times and have more backers that ever. It's a sad statistic, but I'm happy they're out there. The Fight won the Sundance Social Impact Filmmaking at this year's awards.
[Mainstream Chick's take: The bottom line of this documentary: We still need the ACLU. And RBG. The Fight plays a bit like a recruitment video for the organization, but I can live with that. It's interesting to go behind the scenes, learn about the lawyers on the front lines, and understand just how grateful we should be that they continue to fight the good fight. The film begins with audio from Trump's 2017 inauguration, where he swore to uphold a Constitution he clearly hasn't read; it then follows four big cases out of DOZENS the ACLU has fought or is still fighting in response to perverse Administration policies. So thank you, ACLU. -hb]
TRAILER HERE, and keep an eye out for it in theaters and/or On Demand July 31st.
No Comments Yet
You can be the first to comment!
Leave a comment