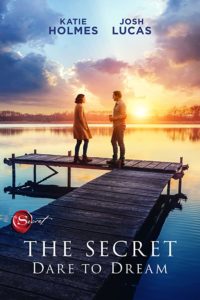 I vaguely remember getting caught up in "The Secret" craze circa 2006. One of my more spiritual-minded friends passed along a copy of the popular self-help book by Rhonda Byrne. Visualize your goals and dreams, it implored (ever so gently), and – voila! – they will surely come true. No comment.
Cynical and jaded as I may be, I do understand 'The Secret' appeal – especially in these crazy times. And that's why the rather lame movie, The Secret: Dare to Dream, gets a 'kumbaya' pass. Embrace what it's going for; forgive the rest.
The Secret: Dare to Dream is a mash-up of a cheesy Lifetime movie, a Nicholas Sparks movie (just pick one), and the classic romantic drama Sweet Home Alabama. If that description made you cringe, you know what to do (or not do). This movie is strictly for practitioners of "The Secret" or anyone seeking reassurance that we all have the power to transform our lives, mundane as they may seem, in fundamental ways.
The Secret: Dare to Dream follows young widow Miranda (Katie Holmes, Logan Lucky, "Dawson's Creek") as she struggles to make ends meet and keep her family happy and safe. She's got three good kids and a kind-hearted boyfriend/boss (Jerry O'Connell), but life keeps throwing her one curveball after another: she's broke; needs a root canal; gets into a fender-bender; has a leaky roof. One day, as a massive storm is bearing down on the Louisiana Bayou, a mysterious man named Bray (Josh Lucas, Ford v Ferrari, Sweet Home Alabama) blows into town with a philosophizing spirit of positivity that has a profound impact on Miranda and her kids. But the seemingly perfect Bray is harboring a 'secret' that threatens to undermine their burgeoning streak of hope and joy.
The PG-rated film features a sufficiently sappy soundtrack and offers up superficial but sincere messages about compassion, and gratitude, and accepting help, and choosing to be positive. It's directed by Andy Tennant who has a decent track record with films like Hitch, Fool's Gold, Ever After, and Sweet Home Alabama, and the Netflix series "The Kominsky Method". I suspect that he, and Katie Holmes, and Josh Lucas among others were probably able to phone this one in.
In other words, don't overthink it.
As the charming Bray would say, "Think about what you want, instead of what you don't want."
If you want to shell out $19.99 for 107 minutes of inspirational fluff, then The Secret: Dare to Dream is there for you – through On Demand platforms such as Apple TV, Amazon Prime Video, VUDU, and cable providers starting Friday, July 31.
[p.s. For a chance to win a free digital download of "The Secret" e-book, head on over to our Facebook page and share something positive!]