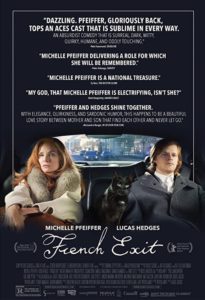 If this film does one good thing, it's that it reminds us what a wonderful screen presence Michelle Pfeiffer is. She stars as Frances, a New York socialite who, following her husband's death, somehow spends all the money left to her and in her social embarrassment, runs away to Paris where a friend has offered her an apartment she isn't using. (Why don't I have a friend like that?) She takes along her son Malcolm (Lucas Hedges), snatching him out of school and away from his girlfriend and they board an ocean liner where he meets and beds Madeleine (Danielle Macdonald, Dumplin'), a fortune teller. Frances also takes her cat Little Frank (perhaps a reincarnation of the dead husband Frank) along, sneaking him aboard. Once they get to Paris and the small apartment (small by a rich New Yorker's standards, that is) they meet a series of quirky people and have a series of peculiar encounters. The movie has a Woody Allen meets Wes Anderson vibe, though it doesn't rise to either of their levels. It's one of those flicks without much of a plot that depends on you wanting to spend some time with its characters. I'm not sure I did.

Frances isn't the most likable person. She's snobby and rude and cold, though she can also be kind and funny, when no-one is looking. She's sold everything that was left – jewelry, penthouse, paintings, etc., and takes the cash along with her, saying that when it runs out, she's done. She even writes a farewell postcard that she doesn't send, but a waiter finds it and sends it to the friend who owns the apartment, who arrives in Paris to find the place full of Frances's and Malcolm's new "friends". But then, and this is what ruined the film for me, the Little Frank goes missing and Malcolm searches for Madeleine, the fortune teller from the boat, to perform a seance to find the cat, and there's a voice that speaks aloud to the table, the husband?. And it's the hokiest scene I've seen in years. One of those "OMG! What were they thinking" moments. Up until that point I was entertained enough to keep watching, thinking, "Okay, it's an odd little film, and I'll just go with it," but that scene entirely interrupted the feeling that had built before.
So should you see it? Is it streaming on one of your services? Then yes. Pay for it? Probably not. Just wait until it's on one of your streaming services. And pray that some directors and producers see it and give Michelle Pfeiffer more roles she can sink her teeth into. She's such a good actress, despite the material.