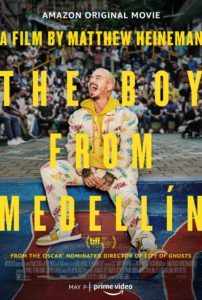 The Boy From Medellin is a documentary about a Colombian reggaeton superstar who I must confess I'd never heard of. Not really my jam (I had to look up 'reggaeton'). So I'm going to go out on a limb here and suggest that this documentary is most likely to appeal to the fan base of its Latin Grammy-winning star, Jose Alvaro Osorio Balvin, aka J Balvin. The film was shot over one week leading up to a highly-anticipated sold-out stadium show in Balvin's hometown of Medellin. It turned out to be a pivotal week for Balvin — and his country — as the "Latin Spring" spread into Colombia, bringing a wave of anti-government protests into the streets.
The majority of the documentary centers around growing pressure on Balvin to address the political unrest and take a stand — something the wealthy musician seems less than inclined to do. It's obvious, though, where this is going and the journey feels rather contrived — especially when music mogul (and Taylor Swift nemesis) Scooter Braun sits him down for a mano e mano chat about the responsibility that comes with being a celebrity and having a platform.
Balvin also talks quite a bit about his insecurities and bouts with depression and anxiety. I admire his openness, especially as this is Mental Health Awareness month. But most folks can't afford to have – let alone travel with – their personal spiritual advisor.
The Boy From Medellin is directed and produced by Oscar-nominated and Emmy-winning filmmaker Matthew Heineman (Cartel Land, City of Ghosts, A Private War). I generally like his work. But in this case, I don't think I came away feeling the way I was supposed to about Balvin. Unless I was supposed to be skeptical about the genuineness of the speech that caps a 4+ hour performance in front of an adoring crowd. On the plus side, I do feel way more hip now knowing who J Balvin is and what makes him "Reggaeton's Global Ambassador." And knowing that The Boy From Medellin isn't at all about Pablo Escobar.
The Boy From Medellin is rated R (mostly for language stuff) and premieres on Amazon Prime Video on May 7.