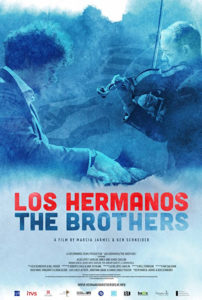 At the center of this wonderful musical documentary are Ilmar and Aldo López-Gavilán, musician brothers separated for much of their lives by US-Cuban politics. Ilmar left Cuba at the age of 14 to study in the USSR and never went back. His younger brother Aldo stayed behind, and with just a brief stint in a London conservatory, became a world class musician through the Cuban system. Seeing one another was difficult over the years as Ilmar ended up living in the US, and our government made visiting all but impossible for decades. Los Hermanos/The Brothers chronicles their reunion and their attempts to record together starting in 2016 and follows them as Obama loosens the restrictions so allowing Aldo to come to the States and tour with his brother. It's a beautifully moving film with fabulous music.
Ilmar is a violinist and Aldo's a pianist as well as a composer. They come from a very musical family. Their mother was a concert pianist of note and their father is a conductor and composer. So it was a given they'd be musical. But what talent! The first time you hear Aldo play, it takes your breath away. And when the brothers finally get a chance to play together touring the US with the Harlem Quartet, they fulfill a life-long dream and wow audiences across the US. Aldo meets Joshua Bell during the first U.S. Cultural Delegation to Cuba after Obama lifts the embargo and they become fast friends. Bell performs with him and later finagles an invite for him to join him at Lincoln Center for a live broadcast.
As the brothers visit one another, the toll of their separation becomes more and more apparent. Aldo is astounded by the abundance of America. And Ilmar has forgotten the poverty of Cuba. They're brothers though and have little spats and disagreements, but their love and respect for one another shines through and the final piece they play together, composed by Aldo and called "Brothers", brought tears to my eyes for the depth of feeling from the music and their performance together. The film will probably make you head to YouTube to hear more from these talented brothers as I did. I highly recommend this one to all music lovers out there.
The film ends during the Trump administration when the restrictions on travel between Cuba and the US were reinstated. I can only hope the new administration will return to the sanity of the Obama era, and soon.
In theaters and virtual cinemas now.
Los Hermanos/The Brothers – Official Trailer
from
First Run Features
on
Vimeo
.
No Comments Yet
You can be the first to comment!
Leave a comment