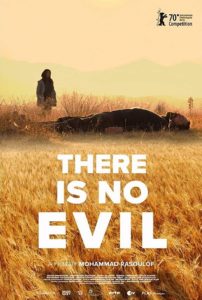 Shot in secret and smuggled out of Iran, There is No Evil is a four-part film centered on capital punishment and its effect on the men who are forced to be a part of the system. Director Mohammad Rasoulof understands the power and limitations of living in an authoritarian state personally. He's been imprisoned more than once for taking a political stand. This is his seventh film, and many of them have won prestigious awards, though because of state censorship, none have been screened in Iran.  After winning the main prize at Cannes in 2017, he was accused of 'endangering national security' and 'spreading propaganda against the Islamic government' and officially barred from leaving the country, a verdict which is still in effect. He was also sentenced to one-year imprisonment. And yet he's still risking his life to make films and this one is powerful.
The first part is a day in the life of Heshmat and his middle-class family. It's all pretty mundane. He and his wife argue. They take their little girl for ice cream. They visit his elderly mother. They chat about a wedding they're planning to attend. And then he goes to his night job, somewhat reluctantly, and the veil of normal is ripped aside for a shocking moment. The second installment is about Pouya, a young recruit in the Army who's job the next day will be to pull the chair from under a person and hang them. He tries to find a way out of it, and makes a daring move to save his conscience. The third story is of Javad, another young military man on leave to see his fiancee, only unlike Pouya, he's been following orders. But news of the death of a close family friend comes between the couple. The final piece finds Bahram and Zaman, a middle aged couple living on a remote mountaintop, tending to bees. Bahram's neice comes to visit and an old family secret is revealed.
The stories are not connected, though the resemblance between Pouya and Javad had me puzzled for a bit trying to work out how they might be. What binds them though is a sense throughout that something evil hangs over everything. Heshmat's life seems ordinary, but there's a sadness in his eyes throughout. Pouya has a conscience, but his fellow soldiers explain the reality that if he doesn't kill for the state, he won't be able to get a job or leave the country. State sponsored death is the norm, and it's not something that anyone can ignore.
The film is beautifully shot and the fact that Rasoulof could get it made at all is amazing. As with any anthology, some of the segments are better than others, but overall it's well worth your time, even if it is a tad long at two and half hours.
In theaters May 14.