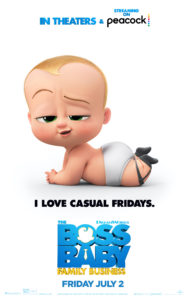 "What happens on the playground stays on the playground." Lines like this are what made the first Boss Baby a cute little hit in 2017, and what makes its sequel, The Boss Baby: Family Business easily watchable now for kids and adults. There is a caveat however. While Boss Baby 2 is entertaining enough for a family film night, it's no Boss Baby 1. The magic is gone – largely because we already know the drill. And, there's simply not enough (for my taste) of the bitterly sarcastic talking wizard alarm clock "Wizzy"!
As Family Business opens, the Templeton brothers Tim (voiced by James Marsden) and Ted (Alec Baldwin) – who overcame sibling rivalry to join forces and beat the bad guys in The Boss Baby – are all grown up and have drifted apart. Tim is now a stay-at-home dad to two girls, Tabitha (Ariana Greenblatt) and Tina (Amy Sedaris) – aka undercover boss baby Tina. And Ted is a bigwig business executive who sends expensive gifts to his nieces but can't seem to find the time to visit… until the new boss baby comes a-calling.
Once again, the brothers are drawn into a secret mission that will once again require a united front to beat the bad guy – in this case, Dr. Armstrong (Jeff Goldblum), the nefarious head of Tabitha's school for gifted and talented kids.
In order to infiltrate the school, Tim and Ted hit the bottle – of special baby formula – and revert back to their younger selves. Antics ensue.
All the key players returned for the sequel – including director Tom McGrath (The Boss Baby, Megamind, Madagascar) and writer Michael McCullers (The Boss Baby, Hotel Transylvania 3, Austin Powers) leveraging characters created by author and illustrator Marla Frazee. Family Business has a relatively weak plot but there are enough cute moments, funny zingers and even a catchy tune to sustain. It does drag a bit at times, feeling longer than its 100 minute running time, but talking babies in suits will cut you a lot of slack.
In the end, I wasn't nearly as entertained with BB2 as I was with BB1. But Family Business is still relatively successful at incorporating humor, adventure and heart into a story that reinforces key messages about the sibling bond and the importance of putting family business first, at any age. And while I, personally, may be outgrowing the franchise, BB1 and 2 are solid options for family viewing, especially if you've got bickering siblings who could use a nudge or reminder about the power of brotherly, and sisterly love.
The Boss Baby: Family Business is in theaters and streaming on peacock July 2.
No Comments Yet
You can be the first to comment!
Leave a comment