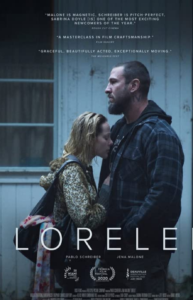 At the center of this working class drama is Wayland (Pablo Schreiber, First Man, "Orange Is the New Black"), just out of prison after 15 years and looking to go straight. And running into his high school sweetheart Dolores aka Lola (Jena Malone, Hunger Games, Inherent Vice) while still living in the half-way house gives him something to hope for. She's just barely hanging on though, working part-time and taking care of three kids alone. And it becomes clear that she's been waiting for him all this time, to start the life they both dreamed of back in their youth. But can love conquer all, including the lure of his old pals and the money they need to live?

Lola's three kids are definitely a big reason the film sucks you in. There's sweet little gender-nonbinary Denim (Parker Pascoe-Sheppard) who's being bullied at school, and verging on adolescence Periwinkle (Amelia Borgerding) who's deep in the throes of mother-daughter combat, and biracial teen Dodger (Chancellor Perry), who's obsessed with body building and smoking pot with his buds. They're all at war one moment and singing karaoke together the next. And they welcome Wayland into the fold with very little drama.
Water is a theme throughout the film. Lola keeps having dreams about the ocean that she can't reach. She's only seen it once but it's calling her. She was a swimmer with real Olympic possibilities in her youth, only that dream was thwarted by her first pregnancy. And what she really wants is to do what she and Wayland had planned and watch the sun come up over Sunset Boulevard in Los Angeles.
Lorelei was produced by the people who brought us The Florida Project and at times it feels similar – the mom who can't really cope all the time, the sometimes feral kids, all set in an impoverished place that feels very depressing. What elevates Lorelai though is the cast. Malone is wonderful as the woman with bigger dreams who's not sure she can ever get out of her situation. And Schreiber shines as the wounded but hopeful ex-con finding love and family at long last. His developing relationship with little Denim is unbelievably touching. And the kids, all of whom have never acted before, are really wonderful. The movie takes a while to find its footing and script falls into clichés at times, but the cast is strong enough to make you overlook those flaws. It's definitely got that indie vibe, and if that's your kind of flick, I recommend it.
In select theaters and on demand July 30th.
No Comments Yet
You can be the first to comment!
Leave a comment