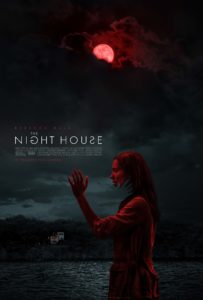 I rarely enjoy horror movies. They're simply not my thing (with exceptions falling along the lines of a Poltergeist, A Quiet Place or The Conjuring). So I admit I'm not the best judge of whether it's worth catching the unsettling, creepy ghost story put forward in The Night House. If you're a fan of the genre, it probably can't hurt – especially because the film is elevated by the 'presence' of British-American actress Rebecca Hall (Godzilla vs Kong, Christine). Hall plays Beth, a recent widow who discovers her husband led a secret life. As she seeks to unravel what triggered his sudden, unexpected death outside their dream house on a lake, Beth is beset by nightmares filled with disturbing visions and voices.
The Night House is a dark supernatural mystery that is slow to unfold, revealing demons and duplicates, voodoo dolls and haunted houses. The film leans heavily on Hall's physicality and range to reflect the emotional roller-coaster that begins with a widow's profound grief and morphs into waves of anger, bitterness, cynicism, anguish and grave personal danger.
A few support characters drift in and out of the picture, including a concerned neighbor (Vondie Curtis-Hall) and a concerned best friend (Sarah Goldberg). But Beth is front and center from beginning to end, battling a range of physical and emotional forces that poke some giant holes in what -on the surface-  seemed like a great marriage.
Imagine Ghost as a tense supernatural horror story instead of a romantic fantasy thriller and you'll have some idea of what you're in for if you enter The Night House.
The Night House releases in theaters on August 20, 2021.