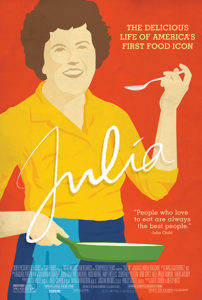 It's impossible to watch a clip of legendary cook and teacher Julia Child doing her thing without recalling the brilliantly gross SNL skit (in 1978) that cemented her status as pop culture icon. What I love about the documentary Julia is that it provides context for that skit, confirms that Julia herself got a kick out of it, and imparts additional information and insight about Julia Child's life, her passions, and her 12-year odyssey to get "Mastering the Art of French Cooking" published in 1961. The revolutionary tome has sold more that 2.5 million copies, and it launched Child onto the public television stage, where she cooked up delectable dishes, paved the way for many of today's "tv chefs", and espoused the virtues of butter, butter and more butter! She inspired millions of Americans to conquer their fears around cooking, try new things, and embrace failure as a learning tool. If you love food, you'll most definitely eat up everything about this documentary. Bon Appetit!
Julia is directed by Julie Cohen and Betsy West, the dynamic duo behind the recent, highly-acclaimed documentaries RBG and My Name is Pauli Murray. The film opens in New York and Los Angeles on November 12 and expands to other cities on November 19.
No Comments Yet
You can be the first to comment!
Leave a comment