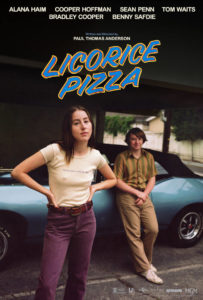 This quirky coming-of-age rom-com was one of my favorite films of the year. The leads, Alana Haim and Cooper Hoffman, are unknowns, but there are some fabulous cameos from A-listers, particularly Sean Penn and Bradley Cooper. It's a quietly unfolding love story with an older woman that takes place as a young man hustles his way around town and into her heart. 
Set in the San Fernando Valley in 1973, Gary and Alana meet at his high school when he comes in to sit for his yearbook photo and she's the photographer's assistant. He's smitten and she's not entirely uninterested. But there is a 10 year age difference. So she keeps it platonic. But when he needs a chaperone to go to New York with him where he's acting in a show, she goes for it, only for her to start dating one of the other guys in the show. That doesn't last long and Gary and Lana become close buddies. 
Having left show biz behind, Gary starts a business selling the newest craze, the waterbed! He hires Alana, but she decides she wants to try her hand as an actress, so Gary introduces her to his agent who gets her an audition that leads to dinner with the star Jack Holden (Penn) and a wild Hollywood night that ends with Gary, who's been jealously watching from afar, running to her rescue. 
Back at the waterbed job, they're supposed to deliver a bed to the infamous hairdresser Jon Peters (Cooper) who was with Barbra S at the time. And what a batshit crazy man!  He praises Gary's entrepreneurial spirit one minute and the next he's threatening to murder him if anything happens to his house. Alana and Gary end up leaving his house flooded and him on the side of the road with his car wrecked. Ha!
And the last of Gary's hustles, once the waterbed biz goes bust because of the gasoline shortage that hit that year? Pinball! He overhears the political candidate that Alana is working for mention that pinball is going to be legal again and jumps on the opportunity to open a pinball arcade. And it's there that the two of them finally get together. 
So recap, little things happen in lots of crazy scenes. Gary and Alana spend a lot of time together, sometimes jealous of the attention the other is getting from someone of the opposite sex. Gary is always looking for the next business opportunity. Alana tries her hand at various things. And through it all they're friends until it's inevitably more. 
The film works for a number of reasons. The two leads are simply wonderful. Cooper Hoffman (son of Philip Seymour) is a natural. And Alana Haim is his perfect other half. And they have great on-screen chemistry. And despite being new to the film world, they seem entirely comfortable in it. The film moves seamlessly between small intimate moments and big Hollywood drama. But the through line is Alana and Gary's awkward relationship, and it's sweet and fun and a delight to be along for the ride. It also has a fabulous soundtrack, in fact the soundtrack of my high school/college years. I highly recommend this one!  
[Mainstream Chick's take: I thoroughly enjoyed Licorice Pizza — until I didn't. Somewhere along the crazy journey it stopped being fun for me. It was still a quirky ride– just one of those adventures that tends to appeal more to the arty crowd than us mainstream types. The actors, the setting, the soundtrack– all great. It just didn't add up to the sum of its parts– for me. I know plenty of folks like Arty Chick who highly recommend this film, and I would not dare dissuade anyone who is interested in checking it out from doing so. Especially if they are already fans of director Paul  Thomas Anderson whose repertoire includes Punch-Drunk Love, There Will Be Blood, Boogie Nights, Inherent Vice, and Phantom Thread. -hb]
In theaters only now.