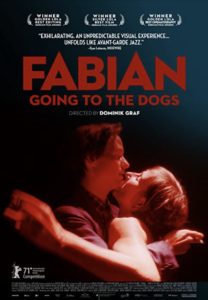 In this adaptation of "Fabian: Going to the Dogs", a German novel first published in 1931 but later banned and burned by the National Socialist Party, Jakob Fabian (Tom Schilling) is a young man in Berlin in the years between the two wars, trying to become a writer but struggling to keep his head above water. By day he works as a copywriter for a cigarette company, and by night he fills books with his observations as he accompanies his wealthy friend Labude (Albrecht Schuch) through the hedonistic world of brothels and bars while Germany slides slowly towards fascism. But Fabian's detachment is shaken one night when he meets the beautiful Cornelia (Saskia Rosendahl), a film law trainee who dreams of being an actress, and their love story forms the spine of this thoroughly engaging film. Be warned, it clocks in at just minutes under three hours running time, but fortunately it never feels long thanks to great direction (Dominik Graf), a superb cast, and a thoughtful, beautifully crafted script.
Fabian moves through the world watching and not really caring a whole lot about anything. His friend Labude though cares deeply, about politics, about love, about Fabian. But as his life falls apart, step by step through the film, Fabian is too late to save him.  Perhaps it's because just as Labude's life takes its downturn, Fabian has finally found something to care deeply about. Cornelia is beautiful, and strong, and is as into him as he is into her. They have a whirlwind romance, living in the same rooming house. But when Fabian loses his job, Cornelia makes the decision to secure her future by taking a powerful director up on his offer of a helping hand, with strings attached. And their romance is thrown into question.
The whole film is set again the backdrop of the rise of Nazism. It's not in your face, but there are signs and scenes, and that hedonism that has been a part of other pre-Nazi films (Cabaret, BerlinAlexanderplatz) is on fill display. The Nazis are just in the periphery but the fear hangs over everything. You understand that when Labude is speaking in the park against the political climate, that he may be in danger. There's a scene near the end of the film where a recurring character is on a train trying to get Fabian to leave Germany with her that tells you that time has run out for their way of life. And the film ends with books burning, as happened to the original novel.
The question through much of the film though is, will love conquer all. Will Fabian and Cornelia finally get back together? I won't answer that because you need to see this film. The leads are all perfectly cast, and there are several stand-outs in smaller roles as well. The use of archival footage cut in at key moments also gives you a sense of the place and time. But it's the story, as simple as it is that keeps you watching. And I highly recommend it.
Now showing in New York. Opening in LA March 4 with more dates to be announced later.  DVD is releasing April 12.